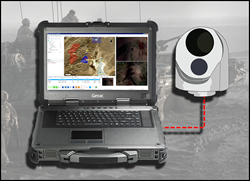 CarteNav has gone from strength to strength over recent years and demand for our products shows no sign of slowing down.
Halifax, NS (PRWEB) September 04, 2013
CarteNav Solutions Inc. is gearing up for another busy show at DEFSEC 2013 (4-6 September) in Halifax, Nova Scotia.
The Halifax-based company will be showing the most recent features of its cutting-edge intelligence, surveillance, and reconnaissance (ISR) software solutions to the National Defence and aerospace community, and demonstrating their practical application to land, air, or maritime environments.
"We've had a really busy year this year, and I'm excited to discuss significant new features with government, industry, and military personnel in the coming months," said Paul Evans, CarteNav's COO.
"CarteNav has gone from strength to strength over recent years and demand for our products shows no sign of slowing down. AIMS-ISR® is a great piece of software which has outstanding benefits for many operators around the world," he continued. "Recent improvements in terrain modelling and mission management tools have enhanced an already cost-effective solution that creates efficiencies across the client organization."
Over the past twelve months, CarteNav has secured sales with new clients in the UK, Europe, Africa, SE Asia, and Latin America, and the company intends to use this experience as a springboard to re-affirm its commitment to its existing customers in the domestic market.
By participating at DEFSEC 2013, CarteNav Solutions Inc. demonstrates this long-term commitment to providing the Canadian defence industry and the Government of Canada with cost effective and powerful ISR capabilities.
About DEFSEC
DEFSEC is Atlantic Canada's premier defence, security, and aerospace exhibition, taking place in Halifax's newest convention facility, the Cunard Centre, and featuring a growing collection of industry leaders. 2013 is set to be a year of significant growth as the region prepares for more active phases of the National Ship Procurement Strategy in addition to significant projects, such as the Fixed Wing Search and Rescue Aircraft (FWSAR) program.
About CarteNav Solutions Inc.
With over a decade of experience in the industry, CarteNav has achieved some notable successes. The AIMS-ISR® family of software solutions have been deployed on a variety of surveillance platforms around the world and have seen operational service in more than fifteen countries.
CarteNav Solutions Inc. is an international leader in situational awareness solutions for the maritime, land, and air environments. Founded in 2002, CarteNav offers operationally proven data integration and display technologies that dramatically improve performance of both sensor operators and tactical decision makers. The company has established a reputation for providing sought-after and high-value software solutions to meet short timeframes at attractive price points.
CarteNav's global client base includes agencies from the national defence, homeland security, and public safety sectors.
The company's success is founded on its people and its dedication to continued innovation, guided by well-thought-out and focused research and development. An ISO 9001:2008 registered company, CarteNav's technical expertise in sensor management, graphical user interfaces, map technology, and systems integration is underscored by an unwavering commitment to quality and customer service.