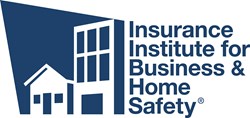 Tampa, FL (PRWEB) September 03, 2013
Building science experts with the Insurance Institute for Business & Home Safety (IBHS) are available to answer media inquiries about the effects of wildfire on home and commercial structures, and about what home and business owners can do before wildfires strike to reduce potential damage to their properties.
The Rim Fire in California is now the size of San Francisco, Oakland, and San Jose combined, making it the fourth largest in the state's history. This fire is now 75 percent contained, but it will be several more weeks, according to fire officials, before the blaze is completely contained. The National Interagency Fire Center's Predictive Services reports that significant fire potential remains above normal in September for a large portion California due to long term drought and high fire danger indices.
IBHS is a leading national expert on preparing for, repairing and rebuilding safer, stronger structures after a wildfire to make them more resistant to this natural hazard.
The following experts are available for interviews on wildfire preparedness, property mitigation, and repairing and rebuilding after a wildfire:

Dr. Steve Quarles, IBHS senior scientist, is an expert on building durability, wildfire and moisture exposures. Dr. Quarles conducts original research on wildfire ember intrusion and radiant heat exposure at the IBHS Research Center.
Dr. Timothy Reinhold, IBHS senior vice president of research and chief engineer, is an internationally-recognized wind engineer with more than 30 years of experience. Wind plays a large role in the behavior of wildfire.
*Julie Rochman, IBHS president and CEO. Since 2007, Ms. Rochman's leadership has raised IBHS' profile as a trusted media source about effective actions to create stronger, safer homes and businesses in the face of natural and man-made disasters.
To arrange an interview, contact Kenya Woodard, Public Affairs Manager, at (813) 675-1053 (o), (813) 442-2845 (c), or kwoodard(at)ibhs(dot)org.
About The Insurance Institute for Business & Home Safety (IBHS)
IBHS is an independent, nonprofit, scientific research and communications organization supported by the property insurance industry. The organization works to reduce the social and economic effects of natural disasters and other risks on residential and commercial property by conducting building science research and advocating improved construction, maintenance and preparedness practices.