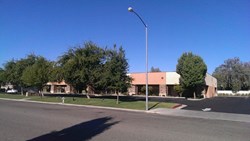 Fresno, CA (PRWEB) September 05, 2013
Gurnick Academy of Medical Arts - Fresno campus has relocated to 7335 N Palm Bluffs Ave in the distinct and highly desirable North Fresno area, minutes away from The Marketplace at Riverpark and River Park Plaza.
Gurnick Academy provides a sophisticated level of training to individuals who desire a professional career in the medical field. This is accomplished through educational programs utilizing advanced training equipment, didactic lectures and hands-on experience provided by highly trained instructors, physicians and technologists who are experts in their field. Clinical internships provide field training in the day-to-day work of a medical professional.
The new 15,814 square foot campus encompasses spacious classrooms for Vocational Nurse, Phlebotomy Technician and various other upcoming programs, a simulation laboratory, skills laboratory, phlebotomy laboratory, ultrasound laboratory, computer laboratory, library, student lounge, numerous administrative and faculty offices, along with ample parking in the beautifully landscaped and state of the art facility. The patient-care lab is equipped with hospital beds, anatomical models, hi-fidelity interactive simulation mannequins and other patient-care equipment.
Though the campus has relocated the phone and fax numbers remain the same as is our commitment to high-quality training programs. Our phone number is (559) 222-1903.
For more information regarding Gurnick Academy - Fresno, their Vocational Nursing Program in Central Valley, or any of our other locations in Modesto, San Mateo and Concord please visit http://www.gurnick.edu or call 1-877-GURNICK.
If you are interested in different locations, please note that other Gurnick campuses offer more programs: Ultrasound Technology Program (San Mateo campus), Psychiatric Technician (Concord campus), Radiologic Technology (Concord campus), Vocational Nurse (all campuses), Phlebotomy Technician (all campuses), MRI Technology (San Mateo and Modesto campuses), Personal Fitness Trainer (San Mateo campus), and Physical Therapist Assistant Program (San Mateo Campus).