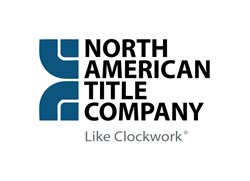 Tampa, Fla. (PRWEB) September 04, 2013
Being "close to your customers" will take on a whole new meaning on Sept. 9 when North American Title Co. in Tampa opens a new branch office in the Greater Tampa Association of Realtors® building.
"We were so pleased to learn the space on the second floor of the Realtor® association building was available," said Rita Abramson, branch manager. "It is a lovely building on West Kennedy Boulevard west of downtown, with a huge parking lot. It will be so convenient to all the buyers and sellers who will be coming here for closings.
"And of course the 6,000 Realtors® in the Tampa Bay area are already familiar with our new location!" she added. "We are so proud to be upstairs neighbors with our outstanding Realtor® customers and friends."
The office, to be located at 2918 W. Kennedy Blvd., Suite 201, Tampa, FL 33609, will be staffed with closing professionals in addition to Elaine Black-Christensen, Florida regional operations manager, and Timothy Steele, attorney and Florida division manager.
About North American Title (NAT)
With well over 1,000 associates and a vast network of branches from coast to coast, North American Title is among the largest real estate settlement service providers in the United States. Consisting of both agent and underwriter operations, NAT has the resources and stability of a New York Stock Exchange company with over $10.3 billion in assets (fiscal quarter ending Nov. 30, 2012). North American Title's agency network operates nationally under the name North American Title Co. (NATC), and is located in 16 of the fastest-growing states: Arizona, California, Colorado, Delaware, Florida, Illinois, Maryland, Minnesota, Nevada, New Jersey, New York, Pennsylvania, Texas, Utah, Virginia and Washington, D.C. Through our relationship with our expanding affiliate network, NATC provides real estate settlement services in all 50 states. With annual gross revenues in fiscal 2012 of approximately $200 million, NAT is among the largest independent title agencies in the United States. NAT is headquartered in Miami, Fla. To learn more, visit http://www.nat.com.