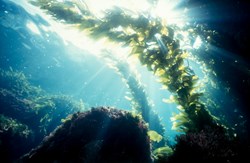 (PRWEB) September 05, 2013
Native traditions and ancient tribes commonly prescribed special herbs and minerals to heal ailments of the skin and internal body. Seaweed is one of those special ingredients that have been highly regarded by ancient Chinese medicine to absorb toxins on the skin and inside the body. Zion Health's Seaweed ClayMask offers a unique natural solution for clearing adult acne and improving skin quality. Seaweed ClayMask contains nutrient rich sea kelp extract and is formulated to offer an intense firming and purifying face mask for adult women. Zion's Seaweed ClayMask is now available for wholesale online orders to health food markets and Beauty Supply stores through http://www.livingnaturally.com.
Sea kelp is a group of brown-green seaweed species whose extracts are a popular addition to natural skin care cosmetics. Seaweeds have been previously studied for their antibacterial activity and potential to stop inflammatory acne. Recently, a ground breaking clinical trial using an active ingredient from brown seaweed found off the coast of France to treat young men showed that acne spots were reduced by nearly 64% and blackheads by 60% following seaweed treatment. Zion Health's Adama Minerals Seaweed ClayMask uses sea kelp extracts to harness this antibacterial action and help reduce inflammation for healthy, clear skin.
In addition to sea kelp extract, Seaweed ClayMask contains edible grade calcium montmorillonite clay, long used by Native Americans as a purifying remedy to treat skin disorders. Calcium montmorillonite clay contains more than 60 trace minerals and is known to bind and absorb bacterial toxins. Seaweed ClayMask contains additional healing herbs like chamomile, sage, thyme and mint formulated to help stimulate circulation and reduce skin irritation.
Zion's Seaweed ClayMask and organic skin care products are available at health food markets and co-ops throughout the United States and Canada. Zion Health provides its consumers with pure skin and body care products that are 100% vegan, free of parabens and aluminum and formulated using certified organic ingredients whenever possible. For online Wholesale Skin Care orders visit http://www.orderdog.com.