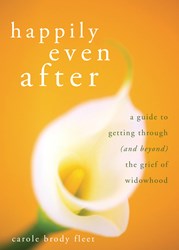 (PRWEB) September 03, 2013
The fourth article in Carole Brody Fleet's "Bereavement Boot Camp" series recently appeared on Huffington Post. This article, "I Turn to... Who?" focuses on "Energy Drainers," people who make it harder to recover, and who are constantly negative.
Carole writes in this fourth installment, "Your time wasted traveling down Negativity Highway with the citizens of Bittertown and Angryville has just come to an end. It's finished. It's over with. You are done. The nature of loss and life challenge in and of itself is a negative experience; and while there is nothing we can do about the experience itself, we are in control of our reactions to the experience. This includes the people who we invite into—or dismiss from—our lives." Her advice in this article is to let go of negativity for a small time and instead try to live with positivity and only be around positive people.
Happily Even After is also available as an audiobook through Audible.
What people are saying about Happily Even After:
"In Happily Even After, Carole Brody Fleet has fresh things to say about the intricacies of intimacy, returning to the workplace, the grief of children, and remarriage. This book is recommended for its authentic depiction of the widow's experience."
—Spirituality & Practice
"Learning to live happily after the experience of devastating loss is among the most important lessons that can ever be taught. Carole Brody Fleet dares to answer the questions that many are afraid to ask."
—Marci Shimoff, New York Times bestselling co-author of Chicken Soup for the Woman's Soul
Carole Brody Fleet is Founder and Chief Executive Officer of Widows Wear Stilettos, Inc. Widely recognized as a leader and expert in the areas of grief and loss recovery, Ms. Fleet is a regular guest on national and international TV and radio shows. She has been featured in many magazines, newspapers and websites, and is recipient of the Embrace Life Award from State Farm Insurance Companies and the Board of Directors Outstanding Service Award from the Soaring Spirits Loss Foundation. On March 11, 2013 Carole was the recipient of the prestigious Books for a Better Life Award (awarded by the National Multiple Sclerosis Society) for Happily Even After, which won in the Relationships category.