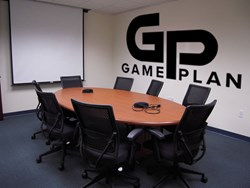 "It's rewarding after all our hard work to have the pieces in place for a fully vertical operation,"
Boston, MA (PRWEB) September 04, 2013
Game Plan Nutrition LLC. (GPLH), a line of nutritional supplements sold online exclusively through a network of personal trainers, today announced the opening of its headquarters, based in Boston's financial district, to meet the increasing demand for expansion in anticipation for their September 15, 2013 beta-launch with their first 1000 trainers.
Based in Boston, Game Plan Nutrition is a direct-to-consumer nutritional supplement company that sells health management products worldwide through a network of personal trainers. The company's Boston headquarters will house a call center, in which employees will work to facilitate the needs of customers and affiliates. This established home base will also give Game Plan Nutrition the opportunity to build-up its public relations and marketing departments, along with an in-house design team, technology team and all executive offices. GPN expects to hire more employees over time as it grows in the online marketplace.
"It's rewarding after all our hard work to have the pieces in place for a fully vertical operation," said Andrew Bachman, Game Plan Nutrition's CEO. "From our technology down to our product and delivery methods, Game Plan is poised to take the supplement industry by storm. I can't wait for all the partnerships and joint venture opportunities this business will create for us, and best of all, living our mantra by changing lives everyday."
Game Plan Nutrition's strategic move to open its headquarters in Boston's financial district was based on the city's young and academic environment that has become a corridor of growth for tech businesses. After focusing on development of logistics and fulfillment in their Hackensack, NJ warehouse, the opening of Game Plan Nutrition's headquarters closes the company's last logistical loop in preparation for their mid-September beta-launch.
About Game Plan Nutrition
GPLH develops tools and products focused upon the intersection of three important market trends: proprietary nutritional supplements, sold exclusively through personal trainers and other fitness professionals, using online mobile tools. These tools allow our affiliate fitness professionals to coordinate fitness goals with our nutritional supplements at the key point of contact before, during and after workouts and related consultations. The official Game Plan Nutrition LLC product launch will be in the fall of 2013.
Forward Looking Statements
This release contains "forward-looking statements" that include information relating to future events and future financial and operating performance. The words "may," "would," "will," "expect," "estimate," "can," "believe," "potential" and similar expressions and variations thereof are intended to identify forward-looking statements. Forward-looking statements should not be read as a guarantee of future performance or results, and will not necessarily be accurate indications of the times at, or by, which that performance or those results will be achieved. Forward-looking statements are based on information available at the time they are made and/or management's good faith belief as of that time with respect to future events, and are subject to risks and uncertainties that could cause actual performance or results to differ materially from those expressed in or suggested by the forward-looking statements. Important factors that could cause these differences include, but are not limited to: fluctuations in demand for Game Plan Nutrition's products, the introduction of new products, the Company's ability to maintain customer and strategic business relationships, the impact of competitive products and pricing, growth in targeted markets, the adequacy of the Company's liquidity and financial strength to support its growth, and other information that may be detailed from time-to-time in Game Plan Nutrition's filings with the United States Securities and Exchange Commission. Examples of such forward looking statements in this release include statements regarding the future performance of the company and proposed product launch dates. For a more detailed description of the risk factors and uncertainties affecting Game Plan Nutrition LLC, please refer to the Company's recent Securities and Exchange Commission filings, which are available at http://www.sec.gov. Game Plan Nutrition, LLC undertakes no obligation to publicly update or revise any forward-looking statements, whether as a result of new information, future events or otherwise.