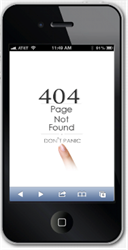 Quality control in email marketing is difficult and time consuming. @campaign auditor fundamentally changes the process.
Seattle, Washington (PRWEB) September 12, 2013
Innovyx (http://www.innovyx.com), a leading email and digital messaging agency, is excited to announce the release of @campaign auditor, an email quality assurance tool based on patent-pending analysis technology. @campaign auditor performs a series of tests to quickly and consistently identify errors and potential problems before an email message hits a customer's inbox.
Marketers are sending more email than ever before. Communications to customers now routinely cross devices, screens, and email environments. Yet, it is not uncommon for emails to contain broken links or images that won't load. The growing adoption of mobile devices has only exacerbated these issues. With 50% or more of email being opened on smartphones and tablets, the potential for brand erosion and lost sales is great.
The benefits to marketers of Innovyx's @campaign auditor are that it:
● Offers a cheaper, faster and more accurate quality audit than even the very best manual processes.
● Provides peace of mind that an email message has been tested along a multitude of technical and user-experience dimensions before being sent to key customers.
● Prevents brand damage, lost revenue and countless hours sending apologies and resending messages, by catching errors before deployment.
● Saves time and money by dedicating fewer human resources to QA testing of email messages.
Innovyx has spent the past 15 years running email marketing programs for some of the best known global brands – in environments where errors are not acceptable and speed, accuracy and effectiveness are paramount. @campaign auditor was forged in this crucible, to meet the needs of the world's most demanding marketers.
"Quality control in email marketing is difficult and time consuming. @campaign auditor fundamentally changes the process," said Derek Harding, CEO of Innovyx. "We originally created @campaign auditor to meet the needs of our own clients but are excited to make it available to email marketers everywhere."
About Innovyx
Founded in 1998, Innovyx is an established email and digital messaging agency. We combine deep channel expertise, a detailed understanding of our clients' business and best-in-class technology to plan, create, execute and analyze digital messaging programs in email, mobile and social media that increase measurable results and return on investment. Innovyx is a part of Diversified Agency Services, a division of Omnicom Group Inc.
About Diversified Agency Services
Diversified Agency Services (DAS), a division of Omnicom Group Inc. (NYSE: OMC) (http://www.omnicomgroup.com), manages Omnicom's holdings in a variety of marketing communications disciplines. DAS includes over 200 companies, which operate through a combination of networks and regional organizations, serving international and local clients through more than 700 offices in 71 countries.