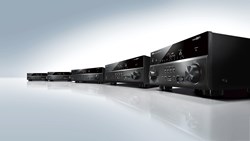 "Spotify Connect gives you effortless control of your music across your phone, tablet and now Yamaha receivers with millions of songs built right in," said Sten Garmark, VP product management at Spotify.
Buena Park, California (PRWEB) September 04, 2013
Yamaha announced today that it will support Spotify Connect. Spotify Connect is a new home audio experience giving you effortless control of your music across your phone, tablet and speakers with millions of songs built right in. Spotify Connect will be available on all 2013 released Yamaha network AV receivers via a firmware update.
Yamaha network AV receiver owners (see complete list below) that have a Spotify Premium account can now enjoy instant access to millions of songs in high-quality on their Yamaha home entertainment system.
Yamaha continues to be at the forefront of technology, providing innovative features that serve the changing demands of consumers around the world. The most apparent feature of the RX-V 75 Series network AV receivers and AVENTAGE RX-A 30 Series is the advanced network capabilities – a necessity in today's environment. Yamaha's advanced networking capabilities deliver fantastic consumer benefits, such as simple operation through the acclaimed AV Controller App, seamless music streaming from PC or NAS devices, AirPlay® for music streaming from iOS devices and Yamaha's own Music Play providing wireless music streaming for both Android™ and iOS devices.
Most recently, the release of music streaming services has changed the way consumers access music. The integration of Spotify Connect within Yamaha products will provide customers with access to the almost endless music archive that Spotify has to offer with seamless music enjoyment.
With Spotify offering superior audio sampling rates, along with Yamaha's legendary Natural Sound, users can expect to get the highest-quality audio playback from their network AV receiver.
"Connect gives you effortless control of your music across your phone, tablet and now Yamaha receivers with millions of songs built right in," said Sten Garmark, VP product management at Spotify. "Connect ensures your music enjoyment is simple, seamless and hassle free."
To use Spotify Connect, customers are required to download the Spotify app for a smartphone, tablet or laptop and have an active Spotify Premium account. If you own a compatible Yamaha network AV receiver and would like to try a Spotify Premium account, there is a free 30-day trial available. For more details, visit spotify.com/yamaha.
Spotify Connect compatible models*:
AVENTAGE Preamplifier: CX-A5000
AVENTAGE series AV receivers: RX-A3030, RX-A2030, RX-A1030, RX-A830, RX-A730
RX-V series AV receivers: RX-V775WA, RX-V675, RX-V575, RX-V475
RX-S series slim AV receivers: RX-S600
HTR series AV receivers: HTR-4066
TSR series AV receivers: TSR-6750WA
*AV receiver firmware update is required to enable Spotify Connect.
For more information, write Yamaha Corporation of America, AV Division, P.O. Box 6600, Buena Park, CA 90620-6600; telephone (714) 522-9105.
About Yamaha
Yamaha Corporation of America (YCA) is one of the largest subsidiaries of Yamaha Corporation, Japan and offers a full line of award-winning musical instruments, sound reinforcement and home entertainment products to the U.S. market. Products include: Yamaha acoustic, digital and hybrid pianos, portable keyboards, guitars, acoustic and electronic drums, band and orchestral instruments, marching percussion products, synthesizers, professional digital and analog audio equipment, Steinberg recording products and Nexo commercial audio products, as well as AV receivers, amplifiers, Blu-ray/CD players, iPod docking systems, home-theater-in-a-box systems, earphones, headphones, sound bars, and its exclusive line of Digital Sound Projectors. YCA markets innovative, finely crafted technology and entertainment products and musical instruments targeted to the hobbyist, education, worship, professional music, installation and consumer markets.
About Spotify
Spotify is an award-winning digital music service that gives you on-demand access to over 20 million tracks. Our dream is to make all the world's music available instantly to everyone, wherever and whenever they want it. Spotify makes it easier than ever to discover, manage and share music with your friends, while making sure that artists get a fair deal.
Spotify is available in 28 markets: USA, UK, Sweden, Finland, Norway, Denmark, France, Switzerland, Germany, Austria, Belgium, The Netherlands, Spain, Australia, New Zealand, Ireland, Luxembourg, Italy, Portugal, Singapore, Hong Kong, Malaysia, Poland, Estonia, Latvia, Lithuania, Iceland and Mexico, with more than 24 million active users, and over 6 million paying subscribers.
Since its launch in Sweden in 2008, Spotify has driven more than half a billion US dollars to rights holders, and aims to drive another half a billion US dollars to rights holders during 2013. Spotify is already the second biggest source of digital music revenue for labels in Europe (IFPI, 2011) and the biggest and most successful music streaming service of its kind globally.