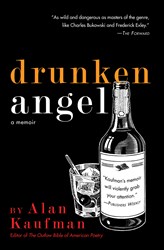 [An] addictive memoir of self-destruction, recuperation and a literary coming-of-age.

— Kirkus Reviews
(PRWEB) September 04, 2013
Avant garde is a phrase often-heard but seldom completely understood. What exactly does it mean, and why is it important? Alan Kaufman, avant garde poet and author of Drunken Angel (also available as an audio book, was interviewed on Huffington Post on this important classification of media.
Kaufman defines avant garde art and literature as "anticipations of massive esthetic, social and political changes to come. Today's avant garde, driven by vision, defies convention esthetically, socially, professionally. Its works are prophesies."
He also gives insight into the writing process of his harrowing memoir Drunken Angel:
"The actual writing of Drunken Angel just poured out over a year into a memoiristic blow by blow account, described by others as 'harrowing' -- of what it was like to descend drunk into the gutter and then my journey back from hell. But it's about my ascent as a writer. Of once-dead dreams miraculously revived and realized."
As the founder of the Acker Awards, which recognize excellence in the avant garde, and a groundbreaking author and poet himself, nobody is better poised to speak about the subject than Kaufman.
Find Alan Kaufman in person at these events:
September 12-15, Sprachsalz Festival, Austria
September 6, 2013, Adobe Books, 7-9pm, San Francisco, CA
October 12, 2013, Litquake, "Writers Who Paint, Painters Who Write" San Francisco, CA
What people are saying about Drunken Angel:
"[An] addictive memoir of self-destruction, recuperation and a literary coming-of-age."
— Kirkus Reviews
Allen Ginsberg, Kathy Acker, Elie Wiesel, Barney Rosset, Isaac Bashevis Singer: these are some of the literary icons who impact the life and times of outlaw writer Alan Kaufman in his intoxicating new memoir Drunken Angel. In this brutal account of his ceaseless battle against his addiction, Kaufman portrays with raw power and naked candor his descent into the hell of alcoholism, while struggling to cope with the fact of being the son of a Jewish Holocaust survivor in a world that is only too eager to forget the horrors of WWII. An inspiring story of coming to terms with how the Holocaust impacted his family, Drunken Angel is an important memoir by a Second Generation Holocaust writer to examine of how addiction, Jewishness and The Holocaust intersect.