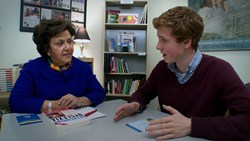 Many parents, teachers and kids feel understood for the first time and that the film accurately conveys their own experience.
Princeton, NJ (PRWEB) September 04, 2013
Throughout the month of October 2013 (Dyslexia Awareness Month), producers of The Big Picture: Rethinking Dyslexia will partner with nonprofit Learning Ally, the Yale Center for Dyslexia & Creativity and Decoding Dyslexia to stage a national "Roadshow" of Director James Redford's acclaimed HBO Documentary. Movie screenings in nine cities will be followed by insightful panel discussions about the experience of dyslexia from the perspectives of children, students, parents and educators.
The film follows Redford's son Dylan as he is preparing to enter college – a major challenge for a boy who was, in the director's words, "functionally illiterate in 4th grade." The film interviews several young dyslexic students, as well as an array of public figures diagnosed with the learning difference, including Richard Branson, Charles Schwab, and Gavin Newsom, California's Lieutenant Governor. Drs. Sally and Bennett Shaywitz, co-founders of the Yale Center for Dyslexia & Creativity, share insights gleaned from their decades long research into this perplexing disability.
"This roadshow serves up a great opportunity to amplify the national conversation about dyslexia, expand public awareness, and energize community-building efforts across the U.S.," says Andrew Friedman, Learning Ally's President and CEO. "Despite the fact that dyslexia affects up to 20 percent of the population, it is only beginning to be understood on a public level – thanks to the efforts of key research and advocacy groups we are honored to collaborate with."
In addition to Learning Ally's lead partners, collaborating organizations on the Roadshow include Eye to Eye; International Dyslexia Association(IDA); Literate Nation; The 1in5 Initiative and ro*co films educational.
Executive Producer Karen Pritzker notes that screenings of "The Big Picture" throughout the year have drawn capacity crowds, and that "local panel discussions following many screenings have been incredibly engaging and helpful to families seeking insight and resources for their dyslexic children. Many parents, teachers and kids feel understood for the first time and that the film accurately conveys their own experience."
The New York Times says the film "busts any preconceptions about limits on what people with dyslexia can achieve."
"Being married to an educator, I know our educational system is long on teachers who care tremendously about their students but short on resources that enable them to identify, understand, and help the one in five students who fall on the dyslexia spectrum," says director Redford. "One of the central goals of this project was to provide a broad and clear understanding of what dyslexia is and isn't."
Roadshow Details:
"The Big Picture" Roadshow kicks off in Los Angeles and New York on October 9th, 2013.
The Los Angeles event will feature special appearances by Director James Redford and Dr. Sally Shaywitz, co-founder of the Yale Center for Dyslexia & Creativity. The New York City screening and panel will feature the film's Executive Producer, Karen Pritzker.
Roadshow Itinerary:
o Los Angeles 10/9 Laemmle Music Hall 3
o New York 10/9 AMC Loews 19th Street East 6
o Tampa FL 10/10 Muvico Centro Ybor 20
o Philadelphia 10/12 Drexel University
o Washington DC 10/16 AMC Tysons Corner 16
o Dallas Area 10/16 Angelika Film Center Plano
o Denver 10/22 AMC Cherry Creek 8
o Chicago Area 10/23 AMC Yorktown
The tour concludes in New Orleans at the IDA Conference on November 9th.
For information on each city screening, visit http://www.thebigpicturemovie.com/roadshow.
About Learning Ally™
Founded in 1948 as Recording for the Blind, Learning Ally serves over 300,000 K-12, college and graduate students, as well as veterans and lifelong learners – all of whom cannot read standard print due to blindness, visual impairment, dyslexia, or other learning disabilities. Learning Ally's collection of more than 80,000 digitally recorded human-read textbooks and literature titles – featuring a heavy emphasis on STEM resources – is delivered through internet downloads, assistive technology devices, and mainstream devices like iPhone and iPad, and is the largest of its kind in the world. Thousands of volunteers across the U.S. help to record and process the educational materials, which students rely on to achieve academic and professional success. Learning Ally also offers individualized support services for parents of dyslexic children to help manage their educational and personal needs. As a 501(c)3 nonprofit, Learning Ally is partially funded by grants from state and local education programs, and the generous contributions of individuals, foundations and corporations. For more information, visit LearningAlly.org.