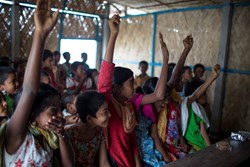 "Children's books in local languages have been one of the most frequent requests from our network, so we are thrilled to work with Room to Read on this project," says Books for Asia director, Melody Zavala.
San Francisco, CA (PRWEB) September 04, 2013
To mark International Literacy Day (September 8), The Asia Foundation's Books for Asia program and Room to Read announce a partnership that will expand access to compelling and culturally relevant early reading material to children in underserved communities throughout developing Asia. The partnership brings Room to Read's award-winning local language children's books to Books for Asia's extensive network of schools and libraries in the region to advance the organizations' shared mission of providing educational tools that inspire and inform the next generation of readers.
In developing countries, one of the impediments to early childhood education is the availability of high-quality, age-appropriate reading material in local languages. Children's book publishing is limited by the lack of specialized skills amongst local publishers, authors, and illustrators, and a consumer base that can afford extracurricular books.
Studies have shown that proficiency in reading is closely linked with academic performance, and enjoyment of reading is linked with higher reading test scores. Engaging, attractive children's books that capture the imagination and inspire reading are essential for an educated society, but, sadly, few are available in developing Asia.
Since 2003, Room to Read's Book Publishing program has produced 839 children's titles in 14 Asian languages. These titles were developed by local authors and illustrators who participated in workshops with Room to Read on how to create engaging and culturally appropriate books. Until now, Room to Read's books have been distributed to its network of over 15,000 libraries and 1,650 schools across Asia and Africa.
Books for Asia typically donates up to one million books each year in 19 countries, reaching nearly 3,000 schools and 800 libraries and community organizations that struggle to provide quality books to eager young minds. Books for Asia is especially adept at reaching remote educational institutions, such as those in conflict areas. Under the partnership, Books for Asia will be able to reprint or share in the cost of printing Room to Read books and distribute them to this network, allowing more children access to engaging reading material in their own language.
"Children's books in local languages have been one of the most frequent requests from our network, so we are thrilled to work with Room to Read on this project," says Books for Asia director, Melody Zavala. "Their books have been created with the highest standards in mind. Without a doubt, providing these books to more schools, as well as to public libraries and drop-in centers for children who don't have access to formal education, will have a significant impact on the children we serve."
"The first of its kind for Room to Read, this new partnership with our long-time supporters at The Asia Foundation will be an opportunity for more deserving children to be able to enjoy the stories that our amazing authors, illustrators, and Book Publishing team have created," says Cory Heyman, Room to Read's chief program officer. "There are millions of children who would benefit greatly from access to culturally relevant, developmentally appropriate, and high quality children's publications, and with the help of The Asia Foundation, we are now able to deliver this opportunity in a cost effective and sustainable way."
Room to Read and Books for Asia are exploring Initial projects in Bangladesh, Nepal, and Sri Lanka, with an eye towards future collaboration in Cambodia, India, Laos, and Vietnam.
Books for Asia
One of The Asia Foundation's best-known and most beloved programs, Books for Asia is the leading provider of donated information resources in the region. The program donates approximately one million books to education institutions in 19 developing countries each year and connects students, educators, and local and national leaders with the knowledge they need to thrive. Its book donations and digital projects help enhance English-language skills, sharpen vocational and research skills, build knowledge in the business, legal, and science professions, and infuse children with an early love of reading that is critical to literacy. For more information, please visit http://www.booksforasia.org.
Room to Read
Room to Read is a global organization seeking to transform the lives of millions of children in the developing world through a focus on literacy and gender equality in education. Founded on the belief that World Change Starts with Educated Children, Room to Read works in collaboration with local communities, partner organizations and governments to develop literacy skills and a habit of reading among primary school children and to ensure girls have the skills and support needed to complete their secondary education. Since 2000, Room to Read has impacted the lives of nearly eight million children by providing increased access to high-quality educational opportunities through its network of libraries and schools, local language children's books and its girls' education program. Room to Read is changing children's lives in Bangladesh, Cambodia, India, Laos, Nepal, South Africa, Sri Lanka, Tanzania, Vietnam and Zambia and aims to reach 10 million children by 2015. Learn more at http://www.roomtoread.org.
Media Contacts:
Wendy Rockett
Senior Program Communications Officer, Books for Asia
Email: wrockett(at)asiafound(dot)org
Tel: +1-510.667.6475, ext. 204
Jacqueline Pezzillo
Senior Associate, Public Relations, Room to Read
Email: Jacqueline.Pezzillo(at)roomtoread(dot)org
Tel: 415.839.4401 or 646.871.9007