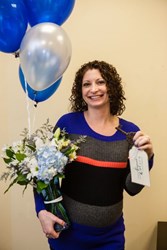 Visit Newport Beach has been such a smooth, personalized, professional process!
Newport Beach, CA (PRWEB) September 04, 2013
Visit Newport Beach Inc. announces Live the Dream winner Amanda Bill of Exhibit Promotions Plus to redeem coveted Conference Sales sweepstakes prize in January 2014.
Newport Beach is the premier coastal destination that offers meeting planners a boutique resort setting rich with exceptional hotel and offsite meeting spaces, mild year round weather and due to its bay to harbor to beach landscape, an exclusive set of group activities.
The "Live the Dream" Sweepstakes invites meeting planners to submit qualified Requests for Proposal (RFPs) to their Visit Newport Beach Inc. Sales Manager. Automatically, the planner is entered into the annual Live the Dream drawing where one randomly selected planner will win a dream luxury vacation to Newport Beach.
The 2012-2013 Live the Dream prizewinner, Amanda Bill is set to arrive in Newport Beach in January of 2014, where a six-night, seven-day vacation awaits!
Bill will stay in a beautiful beachfront residence, courtesy of Burr White Vacation Rentals. She also will enjoy the seven-day use of a luxury-class rental car from Beverly Hills Rent-A-Car, a private dining experience on a Hornblower® Yacht, a Duffy Boat Tour of Newport Beach Harbor, a Fashion Island® Gift Card, and a choice of two of the following: spa package, golf package or stand-up paddle board rental, a Restaurant Experience and $2,000 for expenses and applicable taxes. All for her and a guest.
"I can't believe I won a dream come true vacation!" From the RFP submittal, to our client booking business via Visit Newport Beach has been such a smooth, personalized, professional process! Visit Newport Beach makes you feel like you are #1. Exhibit Promotions Plus, Inc looks forward to an ongoing, strong partnership with Visit Newport Beach," says Amanda Bill.
Last January of 2013, an independent third party randomly selected Amanda Bill. Her Visit Newport Beach Inc. National Sales Manager, Amanda Kliem surprised Bill at her Baltimore, Maryland office to present her with her prize.
"We are thrilled to host Amanda Bill, one of our esteemed meeting planner partners, who we know will enjoy her week-long vacation in the paradise that is Newport Beach, California." Says Michelle Donahue, Vice President of Sales, Visit Newport Beach Inc.
Amanda Bill isn't the only winner in Visit Newport Beach Inc.'s "Live the Dream" promotion. In fact, every meeting planner who submits a qualified RFP to receives a $100 gift card to Nordstrom. In addition, when a meeting planner books an event, they will also receive a $250 American Express Gift Card.
About Visit Newport Beach Inc.
Visit Newport Beach Inc. is a not-for-profit, 501(c)6 destination marketing organization that positions Newport Beach as a premier visitor and conference destination. For more information, go to VisitNewportBeach.com.