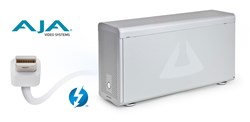 San Diego, CA (PRWEB) September 05, 2013
Magma today announced compatibility of its lineup of PCIe Thunderbolt™ expansion solutions with AJA Video Systems' leading KONA family of professional video I/O products. The integrated effort allows creative professionals to access expanded computer performance by combining Magma's ExpressBox 1T or 3T expansion chassis with the enhanced video capture and conversion capability of AJA KONA hardware with its ThunderBolt™ driver support.
AJA's KONA 3G, KONA LHi and KONA LHe Plus enable capture, display and output solutions for a wide range of projects from SD to HD, 2K and 4K. Magma develops and manufactures PCI & PCI Express Expansion Systems for servers, desktops and portable platforms. ExpressBox 1T and 3T are 'outside-the-box' expansion chassis designed to use PCIe products with Thunderbolt-equipped computers to enhance high performance workflows.
"Magma has really put together a first class system that addresses many of our customer's needs," said Nick Rashby, president of AJA Video Systems. "The flexibility provided by Magma's ExpressBox 1T and 3T expansion chassis allows AJA users to extend their creative capabilities across a wider range of PC and Mac hardware."
AJA's KONA capture, display and output solutions are flexible and designed to work within the technical parameters of any post-production facility, providing a robust platform for the creative process. KONA cards offer maximum connectivity like 3G/HD/SD SDI, component, and HDMI-along with the flexibility of AJA's superior conversion capability. When combined with the Magma ExpressBox 3T or 1T, the creative professional can convert their computer or laptop into a powerful post-production workstation.
"AJA is a leading innovator of digital video interface technology for broadcast and post-production," explains Randy Jones, president and CEO of Magma. "Our expansion chassis were designed to compliment their technology, so we see the AJA collaboration as a very important achievement."
About Magma
Magma develops and manufactures PCI & PCI Express Expansion Systems for servers, desktops and portable platforms. Magma's ExpressBox™ line of products includes enclosed and non-enclosed solutions ranging from low-end single slot expansion products to fault-tolerant, highly reliable, available and serviceable (RAS) chassis specifically designed for mission critical environments. Magma products are platform independent and are used in a variety of industries including audio and video production, test and measurement, medical imaging, surveillance, aerospace and defense, telecommunications, data acquisition, and high performance computing. Magma's team of experienced engineers has been developing expansion and connectivity solutions since 1987. For more information about Magma, call (800) 285-8990 or visit our website at magma.com.