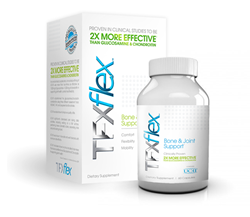 This product has been shown in clinical studies to be 2X more effective than glucosamine & chondroitin.
Salt Lake City, UT (PRWEB) September 04, 2013
TFX Health, LLC announced earlier this week the launch of an online free trial offer for its popular TFX Flex™ Joint Health Supplement. Since its introduction at GNC earlier this year, TFX Flex™ has turned the $2 billion joint health industry upside down with its revolutionary new dietary ingredient that has been shown in human clinical studies to be 2X more effective than Glucosamine & Chondroitin for joint pain relief. In a short time, TFX Flex™ has become GNC's best selling triple threat product for bone, joint, and muscle support.
A TFX Health company spokesman explained, "The new campaign is designed to give consumers an opportunity to try TFX Flex™ so they can see for themselves the remarkable results available from this product. The trial offer provides another important tool to make TFX Flex™ available to a wider market." The company reported that early results of the new campaign have exceeded expectations.
The dietary supplement industry has embraced trial offers as an effective way to get their products into the hands of consumers. Typically, a free trial offer provides the first bottle at no charge with the customer paying only a minimal shipping & handling charge. The customer is then enrolled into an autoship program with a new product shipped to them at full price each month until they cancel. This is a particularly good marketing approach for those products that offer noticeable results within a short period of time.
TFX Flex™ contains a breakthrough new dietary ingredient known as UC-II® that has been proven in human clinical studies to be 2X more effective than glucosamine & chondroitin for joint pain relief. Customer reviews released by the company indicate that TFX Flex™ resulted in joint pain relief for most consumers after only 7 days of consistent usage.
J. Monnier, reported, "The usual daily pain in my joints is much less with this product. I noticed a difference by the end of the first week." Another satisfied customer, M. Jacobsen, explained, "After two knee surgeries, I was skeptical after trying just about everything out there for my knee aches so I'm glad that I gave this a shot as it worked great, and I was feeling results in less than a week." F. Stelson claimed, "I have used a number of different kinds of glucosamine, chondroitin, and cartilage derivatives for Osteoarthritis, mainly in my hips. This one seems to work noticeably better than what I had been using before."
UC-II® was developed by a team of scientists with more than 25 years of experience in the development of patented, clinically proven dietary ingredients. It holds 7 international and U.S. patents and is supported by 9 human clinical studies, including research at Harvard Medical School.
In one randomized, double-blind, placebo-controlled human clinical study published in the International Journal of Medical Science it was found that only 40 mg of UC-II® Undenatured Type II Collagen was more than two times as effective as 1,500 mg of glucosamine and 1,200 mg of chondroitin in supporting joint health, comfort and flexibility. It outperformed the glucosamine & chondroitin combination in three different joint pain relief assessment tools: WOMAC, VAS and the Lequesne Functional Index. UC-II® significantly decreased joint pain during daily activities, including walking on a flat surface, performing heavy domestic duties, ascending stairs and while resting in bed. UC-II® was also shown to be safe and well tolerated with no known side effects [Int J Med Sci. 2009; 6:312-321].
Go to http://www.TFXflex.com/ to learn more about TFX Flex™ Joint Health Supplement.
About TFX Health, LLC
Based in Salt Lake City, TFX Health, LLC is an innovative pioneer in the development of advanced health and wellness products. All products are manufactured in the USA in FDA registered, GMP compliant facilities and sold worldwide through online and traditional retail channels.
UC-II® is a trademark of InterHealth N.I. Clinical data available upon request. U.S. Patents 5,645,851; 5,637,321; 5,529,786; 5,750,144; 7,083,820; 7,846,487, EPO Patent 1435906B1 and worldwide patents pending.