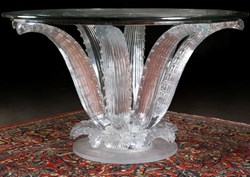 Collectors and buyers are out there, they only want the very best, and we think that's what they'll be getting in this auction.
Hardeeville, South Carolina (PRWEB) September 06, 2013
A signed Marc Lalique cactus table, 19th and 20th century furniture, estate jewelry, antique timepieces, vintage lighting, sterling silver and more will be sold over two days on Sept. 21-22 by Gallery 95 Auction, in the firm's gallery at 24022 Whyte Hardee Boulevard in Hardeeville, South Carolina just north of Savannah, Ga.
In all, around 500+ lots will cross the auction block, most of them selected from prominent local estates and collections and all of them fresh to the market. Every lot can be seen online, via the Gallery 95 Auction website, at http://www.gallery95auction.com. Internet bidding will be facilitated by LiveAuctioneers.com. Phone and absentee bids will also be taken.
"Collectors and buyers are out there, they only want the very best, and we think that's what they'll be getting in this auction," said Mark Thibodeau, a partner at Gallery 95 Auction. "What we're seeing is the gradual downsizing by the baby boom generation, and wonderful pieces and estates are presenting themselves as a result. That is the way moving forward for us."
Thibodeau said embracing the new technology is key to harnessing the future of the auction business. "Gone are the days of country sales held for a local crowd and no one else," he said. "Because of the Internet and social media, it's now possible to reach a vast audience, worldwide in fact. We try to maximize technology in every possible way."
The Lalique cactus table is the expected top lot of the auction. It retails for over $120,000 in the U.S. Gallery 95 has assigned it a modest pre-sale estimate of 25,000-$50,000. The museum-quality table was designed in the early 1950s and is one of the most influential and important pieces ever made by Lalique. It's 66 inches in diameter is signed Lalique.
One of the superstars of the furniture category is a tiger oak Victorian Gothic sideboard attributed to renowned American furniture maker R. J. Horner. The piece is abundantly carved with griffins, lions and scrolling foliate. It is 56 inches tall by 78 inches wide by 26 inches deep.
Lamps and lighting will feature a pair of monumental Beaux Arts meticulously cast bronze lamps in the form of scrolling griffins and foliate attributed to Caldwell lighting, 24 inches tall; and a circa-1910 Arts and Crafts lamp with open metal work shade and slag glass inserts resting on five figural frog feet.
Over the years, Gallery 95 Auction has grown from a small antiques shop into one of the largest full-service auction companies in South Carolina. The climate-controlled, 12,000-square-foot gallery in Hardeeville is located right off Interstate 95, five minutes from the Georgia state line. It has a 10-foot projection screen, snack bar, loading docks, covered entry and free parking.
Gallery 95 Auction offers several selling and buying options, such as live gallery auctions with live online bidding, live streaming, traditional auctions and online-only specialty auctions. All auctions are heavily promoted worldwide through online marketing, traditional print media and illustrated catalogs on the Internet. General and specialty auctions are conducted year-round.
Gallery 95 Auction is always accepting quality consignments for future auctions. To consign an item, an estate or a collection, you may call them at (843) 784-5006; or, you can send them an e-mail them at info(at)gallery95auction(dot)com. To learn more about Gallery 95 Auction and the upcoming Sept. 21-22 multi-estate Anniversay sale, log on to http://www.gallery95auction.com.