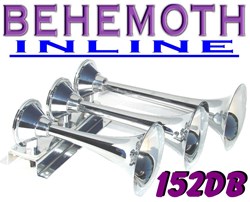 This modification to the popular train horn came after some suggestions from valued customers.
Mesa, AZ (PRWEB) September 05, 2013
Assured Automotive Company, a supplier of high-end customized accessory products for a variety of vehicles since 1991, has re-introduced their newest Air Horn to their extensive line of top end Air Horns. Assured Automotive Products introduced their Behemoth line of Train Horns back in 2004. However, the Behemoth-I has taken on some new features.
"The Behemoth Train Horn series has always been our most desirable horn of our customer," stated Jeffrey Hills, President of Assured Automotive Company. "The Behemoth-I air horn has an inline configuration with removable trumpets. This allows the installer to reconfigure the trumpets as seen fit. We modified the air tubing fitting to make it easier for the installer to remove and replace the air line after modifying the trumpets," says Hills.
The modification performed to the Behemoth-I by Assured Automotive Products was to simply incorporate quick connect quarter inch compression fittings on each of the trumpets and solenoid. This makes the job of reconfiguring the Behemoth-I trumpets much more efficient. "This modification to the popular train horn came after some suggestions from valued customers," Hills states.
Assured Automotive has been servicing air horn and air system needs for many years. Their knowledge of the products that they sell is far above the industry standard. They put together packages with the Behemoth series Air Horn Kit. All of Assured Automotive train horn kits include Viair on board air systems. Assured Automotive believes that if you accompany the best air horn with the best air supply, you will have very pleased customers that will return many more times.
The Behemoth Series air horns are the most admired and are considered the loudest air horn for almost any vehicle. The stereotype belief of our future customers' is that truck air horns are for trucks and other large vehicles only, believes Hills, and that is simply not the case anymore. Assured Automotive Company offers many different air horn sizes from compact size for car air horns, to big truck air horns like you see on big rigs. The air horn air system can be specifically matched to the application it will be installed into.
About Assured Automotive Company:
Assured Automotive Company not only specializes in electric and air horns but also stainless exhaust products including the T304 stainless steel exhaust tip, billet accessories, and more customized products for cars, trucks, SUVs, motorcycles, and off-road vehicles since 1991 - offering auto and truck upgrades at wholesale prices. Also an authorized Dealer for Air Lift air suspension, RIGID Lights and VIAIR on board air systems and components.
Assured Automotive has built a long-standing reputation in the industry for its extensive inventory, comprehensive technical support, superior customer service, and fast shipping with orders typically shipped within one business day of order receipt. Contact Assured Automotive at (602)617-5331 or at http://www.AssuredAutomotiveProducts.com/.