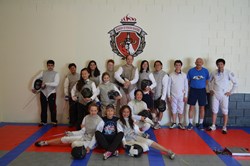 Here at Academy of Fencing Masters, while we spend a lot of time and energy on an athlete's training, we also strive to provide better services to the families
Campbell, CA (PRWEB) September 04, 2013
Academy of Fencing Masters (AFM), a new fencing club in the Bay Area, has opened in the city of Campbell and is training fencers in epee and foil with world-renowned coaches.
Founded by Irina Chirashnya, Academy of Fencing Masters seeks to expand the community of fencers in Silicon Valley. "Most people realize that fencing is a great cardiovascular workout no matter what level of ability and that it improves hand-eye coordination, agility, mental acquity and general physical health. However, we decided to carry it a step further. Thus, our philosophy is to develop the whole person, not just the fencer. So much of the fencing philosophy and code can be applied to real life," Chirashnya explained. "The discipline, agility, patience and stamina that are developed on the strip can help a person succeed at anything."
"Here at AFM, while we spend a lot of time and energy on an athlete's training, we also strive to provide better services to the families, including free lectures on various fencing topics, periodic parent-coach conferences, a quiet office space with Wi-Fi for busy parents to work in during the lesson, and a separate study room for fencers or siblings, so they can do homework during a sibling's lesson or in between their own trainings," Chirashnya emphasized. "Since parent/family support is key in helping the fencer develop, this club was designed with the family in mind so that the athlete can get the full and necessary support to succeed in the fencing world."
In addition to serving the family, two world-renowned coaches, Alexandr and Natasha Maximovich, are leading the training team. "Coaches Alexandr and Coach Natasha are what really set us apart with their knowledge, experience and expertise.," Chirashnya declared. "Both have coached international champions. Coach Alexandr is a true fencing Master, and Coach Natasha is focused on young fencers' development. Our facilities are like no other in Silicon Valley, but our Coaches mold champions and make it fun at the same time."
"Our programs include the usual beginner, intermediate and advanced level," Chirashnya stated. "But we also have a competitive program, a homeschool program and a little fencers program for children ages 5 to 7. Additionally, we offer open fencing in the evenings, private lessons, and can even host birthday parties for children. There is something for everyone at AFM."
Academy of Fencing Master is open and currently accepting registration for group lessons for all levels and ages from child to adult, private lessons, and club memberships. Walk-in questions and registration are welcome or can be done through the website, http://www.academyoffencingmasters.com.
Families or fencers interested in learning more about Academy of Fencing Master can visit http://www.AcademyOfFencingMasters.com or email Irina Chirashnya at irina(at)AcademyOfFencingMasters(dot)com
About Academy of Fencing Masters (AFM):
Academy of Fencing Masters seeks to develop all level of fencers, from beginners to Olympic athletes, through elite coaches, state-of-the-art facilities, and supportive community for both the fencer and family. AFM prepares athletes for fencing and for life.