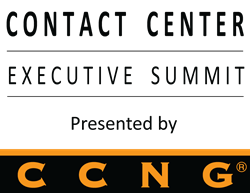 Each presenter brings a wealth of experience and deep perspectives to share, making this event unique for all attendees...
Fort Worth, Texas (PRWEB) September 04, 2013
Today, CCNG International Inc. announced several key presenters for their 2013 Contact Center Executive Summit in Arlington, Texas on September 23rd and 24th. "Each presenter brings a wealth of experience and deep perspectives to share, making this event unique for all attendees as they meet and dialogue with every speaker over the two day program," according to David Hadobas, President and CEO of CCNG. "It is a fantastic group of executives attending this year that will make this a very special opportunity for us all."
CCNG highlights three of the members presenting this year from Teleflora, Working Solutions and Avaya.
Amas Tenumah, Vice President Operations, Teleflora
Amas is a customer experience fanatic, and a self-described "contact center geek" specializing in contact center operations and customer experience strategy for a "twitter-first" century. He has spent the last decade managing contact center operations for companies like Coca-Cola, Convergys Corporation, and currently in his role as Vice President of Operations for Teleflora. Amas brings a unique perspective to the world of customer experience that he shares regularly at industry events and in publications. He is also a proud dad, an avid Yankee fan, and enjoys playing competitive soccer when home in Oklahoma City.
Listen to the recent webcast interview with Amas about his presentation content for this event.
Tim Houlne, Chief Executive Officer, Working Solutions
Tim is a driven entrepreneur with over 25 years' experience in positions related to the contact center industry including sales, customer service, technical support, and warranty management. Tim held various leadership roles at West Corporation, GE TechTeam, and Connect Services. Tim is a recognized leader in the home-shoring movement; he has been featured on FOX, ABC, The Wall Street Journal, The New York Times, The Boston Globe, and BusinessWeek, and is a frequent speaker for various industry forums and colleges. Tim currently serves as Chairman of the Movie Institute, a 501c3 charity, and is on the Vision Bank Board of Directors. In 2013 he co-authored The New World of Work, From the Cube to the Cloud, and was a finalist in the Ernst & Young Entrepreneur of the Year 2013 Southwest Area North. Tim holds a BSBA in management from Missouri Western State University and an MBA from the University of Texas at Dallas.
Listen to Tim's recent webcast interview about his presentation content for this event.
Laura Bassett, Director of Marketing, Emerging Products & Technology, Avaya
Laura Bassett is the Director of Marketing for Avaya's Customer Experience Management and Emerging Technologies groups. These groups deliver innovative contact center solutions and business solutions from Avaya Research Labs. In this role Laura oversees all aspects of marketing, including business planning and strategy, market awareness, product marketing, sales enablement and engagement for next generation solutions. Laura has over 20 years' experience in applications consulting, development and delivery. She has a BSBA in Computer Science and an Executive MBA from the University of Florida.
Listen to the recent webcast interview with Laura about her presentation and perspectives in preparation for this event.
Additionally, this year's Contact Center Executive Summit will have presentation and perspectives from successful executives representing:
o McKesson Patient Relationship Solutions
o Global Contact Services
o OpenSpan
o New York Life Insurance
o Voice Print International, VPI
o Think Finance
o FurstPerson
o VSP Vision Care
o Aspect Software
"The CCNG Executive Summit is very different from other industry conference programs I have attended. It successfully maximizes attendees' time with peer contact center and customer care professionals, to share and discuss case studies and our best practice perspectives. My personal learning and professional network seeded at the Executive Summit have extended well beyond the two days of the Summit!" - Todd Hixson, Operations Resource Planning, Intuit
"The networking power alone from the CCNG Executive Summit is worth the registration fee. Connecting with colleagues from various industries has given me an outstanding perspective that allows for a more objective view of current procedures and new initiatives." - Julie Silbar, Manager, Organizational Effectiveness, American Express Travel & Lifestyle Services
For details on how to attend or present in future CCNG executive or mid-level management events, contact Michelle Porterfield, mporterfield(at)CCNG(dot)com.
CCNG International Inc.
Founded in 1992, CCNG is a member Professional Peer Network (PPN) for contact center and customer care executives, management and leaders. Our mission is to connect colleagues throughout the industry and spread success. The CCNG Network members share best practice insights and experience with peers from top contact center organizations throughout the industry.
Benefits of Joining the CCNG Network:
o Build and expand your network of valuable professional relationships with contact center leaders and award-winning organizations throughout the industry.
o Leverage the knowledge of an industry-wide network of experts and peers.
o Showcase top performing people and programs to build industry recognition and support operational excellence within your organization.
o Explore new ideas. Build more effective programs, raise performance, and reduce risk throughout your organization.
CCNG offers events, programs and resources to all levels of contact center, customer care and customer experience professionals. This is how good contact center organizations continue to get better.
Search Contact Center and Customer Care to "Like" us on Facebook and Google+, join us on LinkedIn and follow us on Twitter.
# # #