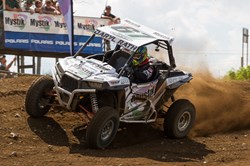 Minneapolis, MN (PRWEB) September 04, 2013
The Mystik® LubricantsTerracross™ Championship has named GBC Tires as its official tire sponsor. It's a good thing, because the circuit is already reaping the benefits of GBC's vast knowledge of ATV and UTV tires and what those tires need to do to survive and compete in Terracross Championship competition.
"To prevent having tire problems we teamed up with GBC tire and Walker Evans Wheels knowing they can handle the Rough, Tough and Muddy Courses of Mystik Terracross." said Terracross' Joe Duncan.
GBC Motorsports was formed in 1995 with a focus on bringing performance tires to the ATV and Powersports market. But it's parent company, Greenball Corporation, has been in the tire game since 1980, when it sent it's first ATV tire to market. Today, GBC Motorsports is a market leader in ATV And UTV tire design and innovation.
Terracross athletes will rely on the GBC Kanati Mongrel at all Mystik Lubricants Terracross Championship events this season. With the first Mystik Lubricants Terracross Championship event already in the books, the Kanati Mongrel has proven to be up to the challenge of the rocks, logs, mud and other obstacles found on Terracross courses. Why? Because they were made for it.
Multi-time Baja Champion, Wes Miller, also known for creating the "Huevos" movie series, will be piloting the GBC RZR XP1000 in the Terracross series.
Miller stated, "I am really pumped to be a part of Terracross. The GBC Polaris RZR XP1000 works awesome. I can't believe how good it is virtually stock. The series is stacked with great drivers, so the competition is going to be fierce. I can't wait to get on the track!"
"The Kanati Mongrel uses the same diamond-shaped tread design as our light truck tire, the Kanati Mud Hog," said GBC's Kory Ellis. "The great thing about these tires is they can take everything Terracross can dish out yet they are DOT-approved, N-rated to 85MPH and have a 600-lb load rating so they can do pretty much anything anyone would want their UTV to do. Probably more!"
Next up: SnoBarons Haydays
When: September 7-8, 2013
Where: SnoBarons Haydays, Sunrise, Minn. (40-minutes North of Minneapolis)
Info: http://www.terracrossracing.com
The Mystik Lubricants Terracross Championship features the best off-road and action sports athletes competing on Quads and Side-X-Sides on a rough, muddy course complete with obstacles such as rocks, logs, jumps and tight turns. Races are aired on CBS Sports Network.
For more information on the Terracross Championship visit http://www.terracrossracing.com.
Facebook TerracrossChampionship
Twitter: twitter.com/Terracrossrace
YouTube: YouTube: TerracrossRacing
Contact: Joe Duncan, joeduncan357(at)gmail(dot)com