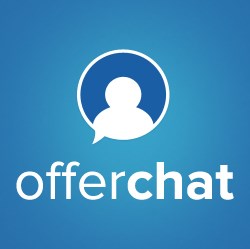 Offerchat is the only live chat provider that doesn't cap its free plan on time or live chat features.
Pittsburgh, PA (PRWEB) September 04, 2013
While Jeff Bezos is currently grappling to revive the ailing newspaper industry and push The Post into a "golden era", Offerchat announces it has cracked the dawn of the live chat golden age.
The popular live chat support tool for eCommerce and business websites has recently announced its coming out of beta. The all-new Offerchat live chat for ecommerce version 2.0 packs major surprises under its hood including a completely redesigned dashboard, signup process and new live chat features.
The company's developers have put convenience and usability at the center of the whole affair without sacrificing aesthetics. The new dashboard improvements include smart chat management that automatically queues new incoming chats to the top of the list, a more intuitive chat window and functions, agent-to-agent chats, wider customization options, and more.
In an effort to curb time spent by business owners in getting started with adding a live chat to their site, the company has also drastically cut the sign up process down to the essentials together with giving interested soon-to-be users the chance to preview the chat widget on their site, live!
The widget preview during the sign up process lets new users try live chat on their sites even before they make the big decision of adding the widget code to their website's HTML source.
Perhaps the biggest advantage of Offerchat 2.0 over a host of other live chat companies is in maintaining the integrity behind its Forever Free plan during the beta phase.
"We hold true to our 'Forever Free Live Chat Tool' by not limiting customers (new and beta) to lame 30 day trial periods, concurrent chat limits or limited customer support. We want all users to have the full Offerchat experience," assures Offerchat co-founder and current Project Lead, Jonathan Kennedy.
Presently, Offerchat is the only live chat provider that doesn't cap its gratis tool on time or live chat features. A new live chat user can sign up and fully enjoy all of Offerchat's features without limits save for the agent seats, in which the company has put a premium as shown in its updated pricing page.
Previous beta users who have remained active in using the tool, however, are automatically grandfathered into the Personal plan of 4 agent seats worth $37/month at no cost and no recurring charges.
Asked if the tool is now paid, Kennedy clarifies that pricing only revolves around agent seats.
"It's absolutely still costless for anyone to use, for an unlimited amount of time on an unlimited number of websites...without restrictions. The only difference now is for companies needing multiple agent seats inside Offerchat - there will be a fee," explains Kennedy.
About Offerchat
Offerchat live chat is for online retailers and sellers who must convert more visitors to actual buyers. It is a new way of handling live chat by providing businesses of all sizes a live chat tool with all the needed features to instantly connect with online shoppers on their sites and provide them the best customer experience online.