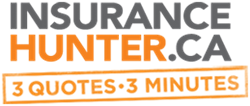 Windsor, ON (PRWEB) September 04, 2013
The sound of school bells can be heard once again, and while many parents are rejoicing at their child's return to routine, some are fearing for their child's safety in Ontario's congested school zones. InsuranceHunter.ca's School Zone Safety Survey reveals a significant number of Ontario parents polled say overcrowded drop-off/pick-up zones make them fear for their child's safety, yet few carpool to help alleviate the congestion.
The InsuranceHunter.ca School Zone Safety Survey is an online study of Ontario parents whose children are between four and 14 years, attend public or private school, and walk or drive to school. According to the survey, almost two-thirds (64%) of Ontario parents who fear their child will be involved in a vehicle accident during drop-off/pick-up at school cited overcrowded drop-off/pick-up zones as the root of their concern. Almost half (43%) of Ontario parents polled defined drop-off/pick-up zones as overcrowded; only one-third (34%) described the zones as safe; and just one-fifth (20%) reported that the zones are well-designed.
"Parents should not have to fear for their child's safety on their way to and from school," says Gail Robertson, Road Safety Ambassador, InsuranceHunter.ca. "Yet our survey shows this doesn't ring true for most Ontario parents, leaving many fearful during what should be an easy part of their family's daily routine."
Two-thirds of parents drive children to school: almost half live less than four blocks away:
Despite parents' concerns about congested school zones and safety, the survey reveals that two-thirds (66%) of respondents drive their children to school – adding to the overcrowding of vehicle drop-off/pick-up zones. Of those who are driven, almost half (44%) live less than 1 km (one to four blocks) away.
Majority of parents polled do not carpool: a potential solution for congested school zones:
Although many of today's parents have a hectic schedule and are concerned about school zone safety, an overwhelming majority of respondents (83%) reveal they rarely or never carpool. Those who do cite the following as their main reasons: I have to work (37%); I want to save time (34%); it is more fun for my child (32%); I want to save money on gas (31%); and I have other children that need to be somewhere else (28%).
"In addition to the many time-saving conveniences carpooling can offer parents, it can also help minimize the danger to children on their way to and from school," adds Robertson. "However, before carpooling, parents need to plan ahead and ensure they have the right number of safety seats in place for each passenger in their vehicle. This is vital to ensuring children arrive at their destinations safely."
The congestion only gets worse when the cold weather sets in. The survey found that more than three-quarters (82%) of parents drive their kids to school when the weather is bad. InsuranceHunter.ca encourages parents to visit their school or school board website to review guidelines for drop-off/pick-up, and to explore any school bus options that may be in place. They should also consider carpooling with other parents in their neighbourhood, which may help free up their time and also be more fun for their children.
About the InsuranceHunter.ca School Zone Safety Survey
From September 6 -13, 2012, the Angus Reid Forum conducted an online survey on behalf of InsuranceHunter.ca among a randomly selected group of 589 Alberta parents/step-parents and 749 Ontario parents/step-parents − all of whom have children in their household between four and 14 years who attend public or private school and either walk or are driven to school.
About InsuranceHunter.ca
InsuranceHunter.ca is a hassle-free, online insurance comparison website which provides comparative quotes for auto insurance, home insurance and travel insurance for residents of Ontario and Alberta. By offering a simple, convenient, quick way to obtain insurance quotes, coupled with personal followup from a qualified insurance broker, InsuranceHunter.ca ensures customers get the best insurance coverage at the best rate. For further information, visit http://www.insurancehunter.ca/.