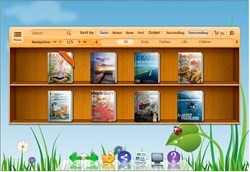 (PRWEB) September 04, 2013
Recently, 3dpageflip.com, the website offering flip book tools, has announced great discounts on its famous page flip software, 3D PageFlip. Customers can now download this useful tool at cheap rates from the company's official website.
The software is offered in two versions, the standard package and the professional package. Customers can buy the version that meets their requirements. Both versions can convert documents to flip books with real time 3D effects quickly and without any hassle. Among the supported file formats are PDF files, MS Office files, PowerPoint files and Image files. The software programs enable users to create books with several 3D effects and this is a distinguishing feature of these software programs which is not found in similar excellence in any other software available in the market. Moreover, the 3D PageFlip software has several customizable options and a user friendly interface with which clients are able to create instant e-books. Multiple platforms support includes Android, IOS, Windows and Mac. The output file can also be obtained in more than one formats.
Years of experience and understanding of customer needs have allowed the company to offer the best possible solutions for digital media printing. Creating online brochures, e-books, magazines and newspaper was never easier before!
The website states, "3D PageFlip can be used to create digital newspapers, business brochures, e-magazines, product catalogs, image albums or and other types of eBooks. With the attention of our 3D effects all of these will result in stunning rich-media output!"
Established in the year 2008, 3DPageFlip Software Co., Ltd is a software development company. It has its headquarters in China and it specializes in offering professional flip book software programs.
More details can be found at http://www.3dpageflip.com.