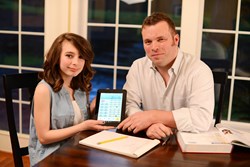 I never would have believed it would become a hit all over the world.
Redmond, WA (PRWEB) September 04, 2013
When 12-year-old schoolgirl Isabel Hughes and her father Aidan created Fraction Calculator Plus, the world's best-selling fraction app, little did they know how much they would be contributing to math education in the USA.
But as millions of American youngsters return to school this week, Fraction Calculator Plus is one app that's guaranteed to fill a gaping hole in the current education system.
According to the President's National Mathematics Advisory Panel, knowledge of fractions is the most important foundational skill not currently developed among American students.
Nearly half of all eighth graders in the United States cannot solve a problem that requires them to divide fractions.
However, Fraction Calculator Plus lets students quickly check their work, helping them gain an early head start in understanding fractions, something the Journal of Psychological Science says is a strong indicator of success in High School mathematics.
And, the Journal goes on to state that children who start ahead in mathematics generally stay ahead.
Fraction Calculator Plus has two great features not found elsewhere: An innovative three-keypad layout to enter fractions and a large, easy to read, display that shows fractions the way you write them.
Isabel came up with the idea for chart-topping app Fraction Calculator Plus while doing her mathematics homework after school with her father Aidan.
"We had a sheet of fraction problems to solve and checking it was taking forever, so I wondered if there was a good calculator for fractions available in the App Store," said Isabel, from Redmond, Washington.
"It turns out that there wasn't so we sat down and designed one that looked as realistic as possible. I never would have believed it would become a hit all over the world.
"All sorts of industries have found a use for the fraction calculator – we have even been thanked by quilt makers who say that it has made their job much easier!"
Since its launch, Fraction Calculator Plus has become the most downloaded app for fractions on Apple's App Store, the Google Play Android Store and Amazon's Kindle Fire Appstore.
A former Microsoft software developer, Aidan now heads up Digitalchemy whose follow-on offering, Calculator Plus recently become the highest-rated app in all categories out of a total of 112,500 apps on Amazon's Kindle Fire Appstore.
It is the best-selling calculator app for the Kindle Fire tablet in the US and Europe – and has been downloaded over three million times. It is also the most downloaded calculator on the Windows 8 platform.
Fraction Calculator Plus is available free on the Apple App Store, The Google Play Store and Amazon's Kindle Fire Appstore.
https://play.google.com/store/apps/details?id=com.digitalchemy.calculator.freefraction
https://itunes.apple.com/us/app/id580778301
http://www.amazon.com/Digitalchemy-LLC-Fraction-Calculator-Plus/dp/B00DJPYKSG
Ends
Picture enclosed:
Caption:
Isabel Hughes with the best-selling Fraction Calculator Plus that she helped to design with her father Aidan (right). The 12-year-old schoolgirl from Redmond, Washington, came up with the idea for a fraction calculator whilst doing her mathematics homework. Fraction Calculator Plus and its sister app Calculator Plus have now been downloaded over three million times, and the latter is the highest-rated app of all time on Amazon's Android App Store. NO REPRODUCTION FEE. Media information: Darren Hughes, MediaConsult, +353 86 293 7037. darren(at)mediaconsult(dot)ie
For media information contact:
Darren Hughes, MediaConsult, +35386 2937037, darren(at)mediaconsult(dot)ie
Aidan Hughes is available for interview.
Contact:
Aidan Hughes (+1 425 785 9946)
aidanh(at)digitalchemy(dot)us
http://www.digitalchemy.us