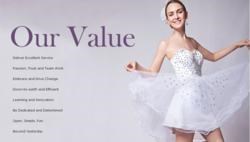 (PRWEB) September 04, 2013
Recently, MMdresses.com, the global leading dress company offering many dresses and related services for consumers, has unveiled its zebra print Quinceanera dresses (http://www.mmdresses.com/zebra-print-quinceanera-dresses_c16_332), and announced that all its Quinceanera dresses are now offered at new low rates, up to 68% off. According to a spokesman for the company, the special offer is valid until Sept. 21, 2013.
According to the CEO of the company, the new designs of zebra print Quinceanera dresses are the focus of a great deal of research and testing while they were developed. These dresses are well-known for fashionable designs and delicate craftsmanship. According to a spokesman for the company, the promotion reflects continued growth in both sales and co-marketing initiatives, as well as an enhanced presence within the industry.
MMdresses.com has dedicated more than 10 years to helping its clients in the dress industry with many related questions and ways on how to show somebody's personality. Now, not only ladies find a chance to shop for a wide range of women's outfits but also acquire price tag with never before discount rates. The shopping at MMdresses.com may be one of the best investments for many women.
MMdresses.com's development team appreciates the time taken by the customers who put together the detailed and informative reviews on their dresses, so that the company can improve its designs continuously.
About MM Dresses
MMdresses.com is a high-technology company of women's dresses, offering many trendy prom dresses, little girl pageant dresses, homecoming party dresses, bridesmaid dresses, evening dresses, and more at competitive prices. The company aims to deliver its customers around the world all kinds of dresses at prices as low as possible.
More details at http://www.mmdresses.com.