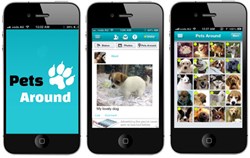 You only have to log into Facebook or Instagram to see how much people love their pets.
Sydney, NSW (PRWEB) September 06, 2013
Social networking has changed the way that humans interact and connect with each other and the new PetsAround app plans to do the same for pets – and their human companions.
PetsAround is an app that integrates with contemporary social media including Facebook. It provides a platform for pet owners to create profiles for their pet, share updates, pictures, and connect with other pet owners.
PetsAround developer Jonathan Leung said that the app provides connectivity with other pet lovers that traditional social media cannot.
"You only have to log into Facebook or Instagram to see how much people love their pets and want to share their pictures, updates and milestones. But with everyone from family and friends through to colleagues potentially having access to the pet owner's social media profile, PetsAround lets them filter which content they share with their network and which they keep for the animal loving community," Mr Leung said.
"It also lets people search for other pet owners in their area which is an opportunity to arrange doggy play dates in the park or share pet care tips and resources with other breed owners or people in their local region."
"While there are many groups and pages online that connect pet owners, it tends to be across multiple websites or social media applications and people have to physically go to the site to interact. Because PetsAround provides those connections in one place and has traditional social media integration, it's easier for people – and their pets – to interact in one space. It's not limited to a specific type of animal or particular breed," he said.
Mr Leung said that the app also has a fun element that lets people share their pet's personality through social media.
"Over the past couple of years we've seen a rise in the popularity of comical animals online – things like the Grumpy Cat or Dog Shaming websites and the various memes that are shared every day show that people love animals and love to assign them personas. PetsAround provides the perfect platform for pet owners to inject some of their pet's individuality into their profile."
PetsAround is available for free download for iPhone, iPad and Android users.