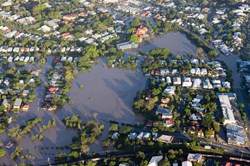 Floods effect a total of 2,809,481,489 people each year.
(PRWEB) September 06, 2013
Floods effect a total of 2,809,481,489 people each year, killing on average 2887 people per year according to Prevention Web flood disaster statistics.
As the World Water Crisis continues, portable water filtration company, SureAqua, are scraping the surface to find out just the extent to which floods play a role in the water crisis.
The new, informative article released last week, The World Water Crisis and Floods, brings an introduction level overview of floods. The article takes a look into what causes them, what is being done to prevent future disasters. Overall bringing the effects that floods and the rapid increase of flood events are having on the world's natural water supplies to the attention of those who other wise wouldn't be aware.
"It's unfortunate that we live in a world where we have come to a point of no return. The more people that learn about this and the situation and state that the world is in, the better targeted the solutions will be," commented Robert Domanko, Director and Founder of SureAqua.
The key lessons to be taken away from the article are how to adapt to floods, rather than prevent them, and how the world is adapting to floods. Just earlier this year, 80% of the Australian state of Queensland was declared a disaster zone.
"Moving forward, as our ability to control and predict weather patterns lessens, the time has come for us to adapt and to plan to prevent future disasters that otherwise would catch us off guard, lead to death, the ruining of homes and largely jeopardize the precious little natural water resources this planet has left," continued Mr. Domanko.
To view the full article, The World Water Crisis and Floods, visit the SureAqua blog.
To join the conversation, like SureAqua on Facebook.