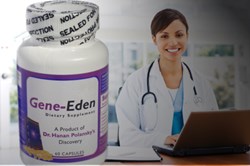 polyDNA would like to recommend Gene-Eden-VIR for those diagnosed with HCV. This recommendation is based on the results of a new clinical study published on August 21, 2013 in the journal Pharmacology & Pharmacy. - polyDNA
Rochester, NY (PRWEB) September 04, 2013
polyDNA agrees with the CDC recommendation to have more Baby Boomer patients routinely tested for the presence of the Hepatitis C Virus (HCV). "Since 1998, the CDC has advised doctors to test high-risk individuals, including injection drug users and dialysis patients. The agency expanded its recommendation in 2012 to include everyone born between 1945 and 1965 because there is such a high prevalence in that age group (1)."
Dr. Stephen Ko, of the division of viral hepatitis at the CDC criticized current practice. "When they do become aware of their infection, they already have symptoms such as jaundice, and they have abnormal lab tests (1)." Dr. Marc Siegel, an associate professor of medicine at NYU Langone Medical Center in New York City, also criticized current practice and said that "There is a pretty high incidence of undiagnosed hepatitis C in baby boomers. The reasons are probably because of sex and drugs. Also, before the early 1990s, we did not know what hepatitis C was, and people were passing it around without knowing it (1)." That's why; he continued, "It is important to know about hepatitis C early. By the time symptoms appear, your liver can be shot (1)."
polyDNA would like to recommend Gene-Eden-VIR for those diagnosed with HCV. This recommendation is based on the results of a new clinical study published on August 21, 2013 in the journal Pharmacology & Pharmacy. This study reports that the natural product Gene-Eden-VIR safely and effectively decreases symptoms in individuals infected with the Hepatitis C virus (HCV)…. (2).
While there are two new drugs approved for the treatment of Hepatitis C (telaprevir and boceprevir), they are expensive, and have many side effects, according to a study published in 2012 in the journal F1000 Biology Reports (3).
Gene-Eden-VIR was designed to target latent viruses including HCV. polyDNA was happy to find that, as expected, participants reported a decrease in their symptoms with "no side effects after taking Gene-Eden-VIR (2)."
The authors of the Gene-Eden-VIR study wrote that, "individuals infected with HCV … reported a safe decrease in their symptoms following treatment with Gene-Eden-VIR (1)." The study authors also wrote that "We observed a statistically significant decrease in the severity, duration, and frequency of symptoms (2)."
Mike Evans of polyDNA said, "Most doctors know that there are dietary supplements out there in the marketplace that claim to be effective against viruses. However, most sellers of dietary supplements don't conduct clinical studies of any sort to test the effectiveness of their products. polyDNA is different. Testing the effectiveness of natural products through rigorous, scientific studies, using criteria accepted by the FDA, is part of our mission. In fact, we aim to develop natural products that are as effective as drugs."
To view the entire paper, visit: http://www.scirp.org/journal/PaperInformation.aspx?PaperID=36101
We invite doctors to contact us with their questions at: info(at)buy-gene-eden(dot)com or phone 585-250-9999.
###
References:
(1) http://www.webmd.com/healthy-aging/news/20130815/baby-boomers-need-hepatitis-c-test-cdc-study-confirms
(2) http://www.scirp.org/journal/PaperInformation.aspx?PaperID=36101
(3) http://www.ncbi.nlm.nih.gov/pubmed/22403588
polyDNA is a biotechnology company that develops dietary supplements using the unique scientific method developed by Dr. Hanan Polansky, which is based on Computer Intuition.
In addition to his unique scientific method, Dr. Polansky published the highly acclaimed scientific discovery, called Microcompetition with Foreign DNA. The discovery explains how foreign DNA fragments, and specifically, DNA of latent viruses, cause most major diseases.
polyDNA developed Gene-Eden-VIR, an antiviral natural remedy that helps the immune system kill latent viruses.