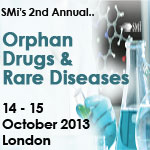 London (PRWEB UK) 4 September 2013
"The growing number and costs of drugs for rare diseases are straining healthcare budgets. Decisions on funding these treatments need to be made on a sound basis."
"Cost effectiveness plays an important part in current decisions about the funding of health technologies. Drugs for rare disease (orphan drugs) are often expensive to produce and, by definition, will benefit only small numbers of patients. Several countries have put measures in place to safeguard research and development of orphan drugs, but few get close to meeting the cost effectiveness criteria for funding by healthcare providers." - BMJ
Join SMi for their 2nd Annual Orphan Drugs and Rare Diseases Conference and hear more about Pricing Strategies in Orphan Drugs. Fernando Royo, General Manager – VP, Genzyme will be presenting on Orphan Drugs and healthcare systems sustainability: Myths, challenges and opportunities.
Key Reasons to Attend:
•Review through a unique 'Big Pharma Spotlight' session what drugs are finishing late stage clinical trials and where pipelines currently lead
•Discover how market access and HTA are affecting Orphan Drug releases
•Review optimal targeting for your new drug with expert analysis in patient selection and recruitment
•Learn from case studies of new molecules in clinical trials
•Analyse current funding options; including financial and economic reimbursement for the clinical development of drugs
Keynote Speakers Include:
•Tony Hall, Founder, Findacure Foundation
•Adrien Lamoine, Director, GlaxoSmithKline
•Fernando Royo, VP, International Government Affairs, Genzyme
•Camille Métais, Sr Regulatory Affairs Manager, Alexion Pharma
•David King, Director, Regulatory Policy and Intelligence, Novo Nordisk
The conference will be followed by an interactive workshop "Applications to Market Access in Orphan Drugs" hosted by Tony Hall, Founder, Findacure Foundation.
For the full conference programme and further information please visit:
http://www.smi-online.co.uk/2013orphandrugs65.asp
Alternatively contact Jonathan Collins on +44 (0)20 7827 6734 or email: jcollins(at)smi-online(dot)co(dot)uk
Sponsorship opportunities are available for this event, please contact Karl Barnard on +44(0) 20 7827 6020 or email: kbarnard(at)smi-online(dot)co(dot)uk
Contact for media-partners: Catarina Almeida, calmeida(at)smi-online(dot)co(dot)uk, +44 (0) 20 7827 6088
About SMi Group
Established since 1993, the SMi Group is a global event-production company that specializes in Business-to-Business Conferences, Workshops, Masterclasses and online Communities. We create and deliver events in the Defence, Security, Energy, Utilities, Finance and Pharmaceutical industries.
We pride ourselves on having access to the world's most forward thinking opinion leaders and visionaries, allowing us to bring our communities together to Learn, Engage, Share and Network. We hold events in over 30 major cities throughout the world including London, Paris and Singapore and to date have welcomed over 200,000 participants from 80 countries.
For more information, please visit http://www.smi-online.co.uk.