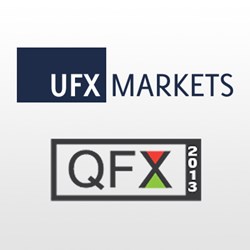 UFXMarkets is one of the most established Forex providers in the region
Doha, Qatar (PRWEB UK) 10 September 2013
UFXMarkets is proud to be the official partner of the QFX Conference – the first of its kind in Qatar. Initiating the QFX Conference marks an important milestone for Qatar to establish itself as a key player in the Forex market in the Middle East. The conference will introduce the country to the lucrative world of Forex and give traders the in-depth information needed to make better informed trading decisions.
Due to its sheer volume, Forex offers investors with the best liquidity, thus making it the most efficient market within the financial industry. The benefits of Forex create an endless amount of investment opportunities, such as multiple strategies, tight spreads and low transaction costs - right from day one.
According to UFXMarkets, Qatar's visionary leadership, strong ethical values and dynamic economic growth provide the region with a high degree of financial gain. A certain degree of public support surrounding the Forex market can accelerate this process, allowing local investors to benefit from increased transparency, safeguarding of their interests as well as maintaining ethic principles.
UFXMarkets is one of the most established Forex providers in the region, dedicated to delivering its clients with excellent trading services, competitive market rates and comprehensive market research tools. The Company offers traders the highest level of integrity and transparency, as well as, highly qualified professionals who provide customized training solutions every step of the way.
About UFX Markets
Since its establishment in 2007, UFXMarkets has become one of the world's leading online Forex brokers and investment networks, specializing in trading commodities, currencies, CFDs and indices. A Cyprus Investment Firm licensed and regulated by CySEC and a signatory to the European Union Directive for Financial Services (MiFiD), UFXMarkets guides traders with a wealth of financial resources and a professional team of financial experts with a combined 50 years of Forex experience.
For more information about UFXMarkets, please visit their website http://www.ufxmarkets.com/ar