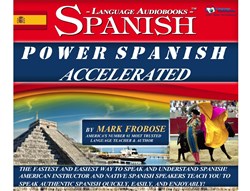 Power Spanish Accelerated, the fastest and easiest way to speak Spanish, is now available on Audible.com for only $17.00.
Mark Frobose/Founder
Language Audiobooks Inc.
Champaign, Illinois (PRWEB) September 04, 2013
Language Audiobooks President Mark Frobose announced today that his company's bestselling Spanish CD program, Power Spanish Accelerated, is now available for immediate download on Audible.com.
"We want to make Power Spanish immediately accessible to everyone with a computer or a smartphone," explained Frobose.
Mark, who has single-handedly created more foreign language programs than anyone on the planet went on to explain the phenomenal response to Power Spanish Accelerated.
"The program keeps you constantly motivated while it teaches you to speak real Latin American Spanish," he says. "We have six native Spanish speakers who really teach you how to speak authentic Spanish just like the natives."
Power Spanish Accelerated eight-hour program is now immediately available on Audible.com and Amazon.com for around $17.00.