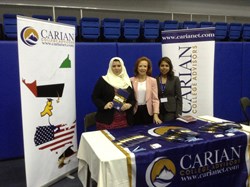 Dubai, UAE (PRWEB) September 05, 2013
Carian College Advisors will host an informative series of free evening seminars on US Admissions topics at The Address Montgomerie Hotel in Emirates Hills, Dubai through September and October. The featured topics will be: Admission to Highly Selective Universities: The Ivy League and Beyond; Aspiring Engineering Students: What You Need to Know; Business and Economics Majors: A Blueprint for Success; Health Science Students: Pre-Medical, Pre-Pharmacy, and Pre-Dental Guidance; and Overview of the US Admissions Process: All Applicants. The events will be held on Wednesday evenings, beginning September 25 through October 30, at 7:00 pm. Events are open to the public, but all attendees must register in advance at http://www.carianet.com.
Carian College Advisors is the premier educational consultancy focusing on US Admissions in the GCC. Its team is composed of former American university admissions officers and counselors.