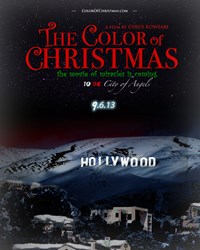 Los Angeles, CA (PRWEB) September 05, 2013
After winning top prizes at film festivals across the country, Cyrus Kowsari's film "The Color of Christmas" will be screening at the Academy Accredited and BAFTA qualifying LA Shorts Fest on September 6th. This festival has produced thirteen Academy Award winners over the last sixteen years. A win at the LA Shorts Fest for Cyrus would qualify his film for an Oscar nomination in the category of Best Short Film at next year's Academy Awards. Kowsari's film, a dark horse candidate, will be competing against other films this week starring A-list actors like Cate Blanchett, Elijah Wood, Gérard Depardieu, and Sir Ian McKellen.
In March, "The Color of Christmas" took the audience award for Best Short Film at the Palm Beach International Film Festival. The twenty-four year old Massachusetts native also won a Golden Remi Award (a prize that a young Steven Spielberg also won) at WorldFest-Houston, and a Silver Bulb at the inaugural Vegas Indie Film Fest. "The Color of Christmas" will next be playing at the South Dakota Film Festival in September and at the Orlando Film Festival in October.
For more information on Cyrus Kowsari visit:
CyrusKowsari.com
For more information on The Color of Christmas visit:
ColorOfChristmas.com
For more information on LA Shorts Fest visit:
LAShortsFest.com
###
For interviews and to request materials:
Cyrus Kowsari contact(at)cyruskowsari(dot)com
978 273 9391