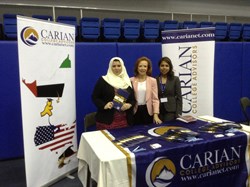 Dubai, UAE (PRWEB) September 05, 2013
Carian College Advisors will host an Open House for parents and students at its office on Saturday, September 14, 2013 at 2:00 PM. The catered event is open to the public, but reservations must be made in advance by registering on the company's website, http://www.carianet.com. The Open House will showcase Carian's new state-of-the-art 3,000 square foot office and allow Carian's counselors to answer questions from students interested in pursuing an American education.
A separate event to host high school counselors will be held on Saturday, September 21st, 2013 at 2:00 PM. The event is open to all counselors of UAE schools interested in expanding their knowledge of the US Admissions process. Carian is keen to build bridges between US Universities, their Admissions offers, UAE counselors, parents and students.
Carian College Advisors is the premier educational consultancy focusing on US Admissions in the GCC. Its team is composed of former American university admissions officers and counselors and is based in Dubai.