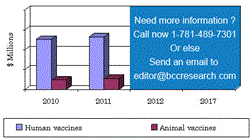 Wellesley, MA (PRWEB) September 06, 2013
According to a new technical market research report, Global Markets for Vaccine Technologies from BCC Research (http://www.bccresearch.com), the global market for vaccine technologies was valued at $33.6 billion in 2012. BCC Research expects the market to reach nearly $43.4 billion by 2017, and register a compound annual growth rate (CAGR) of 5.3%.
According to the Global Alliance for Vaccines and Immunization (GAVI), vaccines help prevent between 2.5 million and 3 million deaths a year among all age groups and prevent many infectious and non-infectious diseases. However, many developing countries do not have access to vaccines or experience long waits in receiving vaccines that are readily available in developed countries, resulting in unnecessary deaths. Efforts by organizations such as GAVI, an alliance between the World Health Organization (WHO), the United Nations Children's Fund (UNICEF), the World Bank, the Bill & Melinda Gates Foundation, donor governments, developing countries, international development and finance organizations, and the pharmaceutical industry are working to change this.
The progress in the vaccine industry from the perspective of usage, coverage, awareness, and innovation over the past decade has been tremendous. The market for both human and animal vaccine products, platforms, and technologies is growing as vaccine technologies are being developed to prevent diseases such as HIV/AIDS, malaria, cancer, and neurodegenerative diseases such as Alzheimer's and Parkinson's.
The development of vaccines is increasing in the emerging markets, driven by research funding from local governments and international organizations. Large companies are focused on research and development (R&D), emerging technologies, and strategic partnerships. In addition, due to the demand for cost-effective, high-quality products with stricter safety measures, vaccine manufacturers are seeking greater support from their suppliers and increased cooperation at the local production level.
The latest market trends, including mergers/joint ventures, market penetration of large companies, research, changing consumer preferences, health and safety awareness, and immunization coverage campaigns are driving the vaccine market. These trends are opening up diverse opportunities for manufacturers and scientists to develop innovative and affordable products.
This analytical report presents an overview of the global vaccine market, including developments in immunizations during the next four to five years. It presents a wide-ranging analysis of the global vaccine market in two broad categories—human and animal vaccines. These are categorized further by subcategories where applicable. The report also includes regional analyses for North America, Europe, and other emerging markets.
This new report from BCC Research offers an overview of the vaccine industry and will be advantageous for market participants such as manufacturers, researchers, and non-governmental organizations.