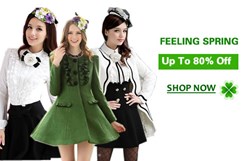 (PRWEB) September 04, 2013
Recently, 4leafcity.com, the leading provider of women's dresses, has released its new collection of wedding dresses (see: http://www.4leafcity.com/product-wedding-dresses-011001002.aspx), and launched a wedding dress promotion, up to 48% off. According to the CEO of the company, the special offer is specially designed to attract more new customers and acknowledge old clients as well.
Quality, freshness, and price - these are the cornerstones on which many successful companies have built their business. The wedding dresses in this promotion are specially designed by the top designers from their company, which aims to provide a better shopping experience for women worldwide.
"We are honored to have been recognized as one of the world's fastest growing businesses, and it was a very good chance to show the new capabilities we can offer our customers," says the CEO. "Brides now can benefit from our promotion, because all the wedding dresses have same quality as others in a local retail shop, and the prices are much lower."
In addition to great discounts, the company provides speedy delivery to give the best experience possible to a wide array of people. Moreover, the improved product quality allows more color options available for each custom dress.
About 4leafcity.com
4leafcity.com is one of the leading providers of women's dresses. The company carries a complete line of women's dresses, as well as elegant men's dresses and various accessories for men and women. For a full list of services and to learn more about 4leafcity.com, please visit http://www.4leafcity.com.