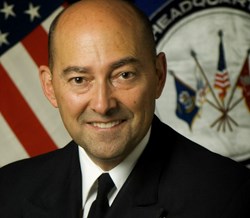 "Admiral Stavridis is the definition of innovation," Dirk Beveridge, UnleashWD Founder said.
(PRWEB) September 05, 2013
UnleashWD proudly announces that the former Supreme Allied Commander at NATO Admiral (Ret.) James Stavridis will serve as keynote speaker on Oct. 30 the second day of the Innovation Summit.
As part of his presentation at UnleashWD, Admiral Stavridis will address leadership lessons from his career and belief that all organizations must constantly explore innovation to create the future, making what seems impossible, possible. Admiral Stavridis retired from the Navy earlier this year after a career that culminated in attaining 4-star status. He is currently serving as the 12th Dean of the Fletcher School of Law and Diplomacy at Tufts University.
"Admiral Stavridis is the definition of innovation," Dirk Beveridge, UnleashWD Founder said. "During his three decades in the U.S. Navy, he always set aside time for innovation. If Admiral Stavridis can create a culture of innovation at an organization of that size, then any company can embrace the same principles."
Beveridge met Admiral Stavridis during a Secretary of Defense Joint Civilian Orientation Conference for business and community leaders of US Armed Forces sites.
Admiral Stavridis led the Navy's premier operational think tank for innovation, Deep Blue, immediately after the 9/11 attacks. His time in the Navy includes four years as Supreme Allied Commander at NATO, where he oversaw operations in Afghanistan, Libya, Syria, the Balkans, and piracy off the coast of Africa.
In the course of his career in the Navy, he served as senior military assistant to the Secretary of the Navy and the Secretary of Defense.
He won the Battenberg Cup for commanding the top ship in the Atlantic Fleet and the Navy League John Paul Jones Award for Inspirational leadership, along with more than 45 US and international medals and decorations, including 22 from foreign nations.
Admiral Stavridis graduated from the US Naval Academy at Annapolis, and he later earned a PhD from The Fletcher School at Tufts, winning the Gullion prize as outstanding student in his class, as well as academic honors from the National and Naval War Colleges as a distinguished student.
Admiral Stavridis has published five books on subjects including: leadership, Latin America, ship handling, and innovation. His TED talk on 21st century security in 2012 has more than 300,000 views.
Admiral Stavridis is also the Chair of the Board of the US Naval Institute, the professional association of the Nation's sea services: Navy, Marine Corps, Coast Guard, and Merchant Marine.
About UnleashWD:
Founded in 2012, UnleashWD is the first and only conference dedicated to bringing innovation to the wholesale distribution industry. The summit gathers only once a year, but do not wait to start innovating. Visit UnleashWD.com for updates on future webinars, eBooks and other valuable information on how to innovate.
About the founder:
Dirk Beveridge is an expert in how wholesale distributors and manufacturers increase market share through examining and improving their relationship with customers.
For the last 25 years Beveridge has worked with more than 3,000 firms as a leadership consultant, trainer and speaker. His clients include: Time Warner, IBM, Andersen Windows, Graybar and Berlin Packaging.
He is available for press interviews, corporate speaking or consulting. To contact Beveridge, call 847-381-7797 or email info(at)unleashwd(dot)com.