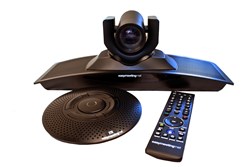 The Easymeeting TWS works seamlessly with traditional systems as well as cloud services available on the market today.
London (PRWEB UK) 5 September 2013
The Easymeeting TWS was designed specifically with the everyday end-user in mind. With simplified menus and shortened dialing strings, customers will experience easy video meetings—every time. The goal at Easymeeting is to offer users a way of working more efficiently and freeing up more time to spend on what's important: work, friends and family.
The TWS will be officially available on October 1st of 2013. The system boasts a 10x camera, 1080p resolution, dual-monitor capability, includes 2 camera shelves for conference room set up and is accompanied by a 3-year limited warranty. The easy to install system will be up and running at your office in no time and can immediately give you access to video meetings with systems, computers, tablets and smartphones through additional Easymeeting Cloud services.
With Easymeeting, companies can eliminate costly investments for on-site infrastructure. In today's market, hardware endpoints like the TWS are as important as ever to provide higher user quality in conference rooms while the cloud also offers the flexibility of the mobile options. With the power of the cloud and the Easymeeting TWS, high quality video conferencing is more accessible and affordable than ever.
Product Manager Raymond Sebergsen says, "While working on the Easymeeting TWS we focused on how to make it easy for an everyday user to set up a system and start having video conferences within minutes. The Easymeeting TWS works seamlessly with traditional systems as well as cloud services available on the market today. As always, we have focused on the ease of use and the features our customers really need in order to have successful meetings. We believe our customers should have the option to choose how to use the unit, and should not be limited to connect with a specific provider to get the most out of the system. With its wide angle camera, ultra silent operation and user friendly interface, the Easymeeting TWS is designed to be used by anyone, anywhere."
When asked how this will help customers, Easymeeting Founder and CVO Hans Johan Tofteng said, "Effective and easy to use video conferencing can really improve the way we are doing business and using our valuable time. There is still an unbelievable amount of organizations that have not utilized video conferencing and if we can make it as easy as making a phone call we believe that everyone could benefit from it. We strive to make video conferencing an easy to use and accessible solution for every industry and every size company. We know that technology can be a complex and overwhelming investment and commitment for companies. That is why we have designed our Easymeeting TWS system to be easy to buy, easy to install, and most importantly- easier for you to use."
To learn more the Easymeeting TWS video conferencing system, visit http://www.easymeeting.net/tws or contact a reseller near you http://easymeeting.net/contact/partners/.
Easymeeting.net was founded in 2006 by Avikom AS, a leading Scandinavian Distributor of Audio and Video Conferencing Services. We stand behind the mission that video conferencing should be easy to use, and easy to deploy for everybody. By putting the customer first and making technology for the everyday user we hope to change the industry by offering a better standard of mutually-beneficial partnerships. Easymeeting.net's Global Headquarters are in Tromsø,Norway, and it´s North American Headquarters in Mystic, Connecticut with satellite offices in Stockholm, Sweden, and strategic partners throughout the Americas, EMEA and APAC regions.