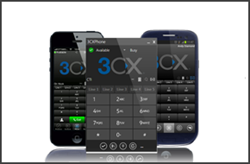 'We freed the IT Administrators from the expensive, cumbersome and outdated proprietary PBXs – now 3CX is releasing users from the office and desktop with unparalleled mobility and Unified Communications features,' said Nick Galea, 3CX CEO.
London, UK (PRWEB) September 06, 2013
3CX, developer of the award-winning Windows VoIP PBX [3CX Phone System and mobile device management solution, 3CX Mobile Device Manager, today launches 3CX Phone System 12 which puts unparalleled mobility and unified communications features in the palms of users' hands, allowing them to break free from the constraints of the office and desktop environment.
3CXPhone – New Unified App for Android, iPhone and Windows
The new 3CXPhone app delivers true unified communications with presence, one click call conferencing, corporate instant messaging and a softphone with integrated PUSH technology. Other new intuitive features include:
-Ability to easily perform blind or attended transfers
-Multi Line capability – manage multiple calls at the same time
-Integrate your company phone book with Exchange or LDAP servers
-Integrate your personal phone book with Microsoft Outlook
-Easy to understand call forwarding rules
-Ability to quickly set presence status
-Ability to check voice mail and recordings visually
-Centralized call history
-3CXPhone can be easily deployed and provisioned in seconds
3CXPhone's Desk Phone Control Makes Calling Significantly Quicker
When in the office, users can increase their productivity by using the 3CXPhone CTI mode to control their IP phones from their desktop and initiate calls with a mouse click rather than manually typing in the phone number. Transfer calls with a mouse click rather than cryptic phone interface which also differs for each phone.
Setup Conference Calls in Seconds without Needing a Manual
Setting up conference calls with 3CX Phone System 12 is a breeze as the users can set up conference calls between colleagues and external callers with a few mouse clicks. Whilst the user is on a call, they can elevate that call to a conference and add other callers from their phone book, company phone book or extensions.
Unmatched Mobility with PUSH Support
3CX is unique in its integration of PUSH Technology which means that 3CX can 'wake up' the phone when a new VoIP call comes in. Now, Android and iPhone smartphones wake up when a call or chat message arrives, saving valuable battery time whilst still allowing you to be reachable on your extension anywhere and slashes company call costs as users can be reached via VoIP. As the calls are being sent via 3CX Phone System, users do not need to give out mobile number either, ensuring a sustained level of privacy.
Increase Productivity with Outstanding Unified Communications Features
3CXPhone is a fully geared to enhance the user's productivity as it's a featured unified communications client, not just a softphone. Users can check the status of other users and chat with them using the IM feature. They can also setup a conference call with just one click, view voice-mails and call history from their smartphone and Windows desktop.
Beyond the Standard PBX and IP Phone Relationship
3CX's partnership with the leading IP phone and VoIP gateway manufactures ensures all products are fully tested and validated by 3CX before their release. This guarantees that there are no compatibility issues when using the new Yealink T46G IP phone and the Welltech WellGate 2540 VoIP gateway with 3CX Phone System. 3CX Phone System 12 will also soon support the low-cost Gigaset N720 DECT devices.
Documentation and Links
Demo Key: SAOY-3LMW-U3OT-GLJV
Check out the 3CX Phone System 12 User Manual (PDF). See the new pricing here and watch the What's New in 3CX Phone System 12 video.
Review the social media version of this press release which includes press contact details, core facts, additional images and content.