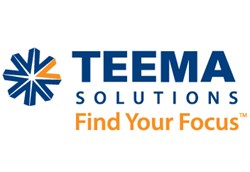 Our business model is a syndicate of some of the most coveted staffing experts in the country
Vancouver, BC (PRWEB) September 04, 2013
TEEMA Solutions Group (TEEMA), a leading edge staffing and technology firm, today announced their 2nd consecutive year on the PROFIT HOT 50, the definitive ranking of Canada's Top New Growth Companies.
TEEMA made the PROFIT HOT 50 list for the second year, placing No. 44 with a two-year revenue growth of 420%. Published in the October issue of PROFIT Magazine and online at PROFITguide.com, the PROFIT HOT 50 ranks young firms by two-year revenue growth. TEEMA debuted on the PROFIT HOT 50 in 2012 at No. 4.
"Being recognized by PROFIT Magazine for a second consecutive year is an exciting milestone for TEEMA and all our members," says Brian Antenbring, President and CEO of TEEMA. "Our business model is a syndicate of some of the most coveted staffing experts in the country, because the model fosters an entrepreneurial business approach, which contributes to our significant growth year after year."
Since its operations began in 2008, TEEMA has recorded significant revenue growth, while successfully demonstrating the advantages of their unique and innovative business model. TEEMA recently listed as one of the fastest growing staffing companies in the United States on the 2013 Inc. 5000 list as well as the Canadian 2013 Branham300.
"This year's PROFIT HOT 50 companies embody the entrepreneurial spirit," says Ian Portsmouth, Publisher and Editor-in-Chief of PROFIT Magazine. "They have grown exceptionally fast in a challenging economy, thanks to the ingenuity and determination of the entrepreneurs behind them."
The see the full results of the PROFIT HOT 50, go to http://www.profitguide.com/hot50.
-30-
About TEEMA Solutions Group:
TEEMA Solutions Group Inc. (TEEMA) is a customized staffing and technology solutions firm dedicated to achieving targeted results, tailored to meet the individual needs of all clients and candidates. TEEMA Staffing Solutions offers personalized talent management services including talent placement, payroll outsourcing and vendor management. TEEMA Technology Solutions offers clients technology-certified Managed Services for system integration projects, as well as Practice Lead and Project Management services. TEEMA Staffing Solutions specializes in areas of Information Technology, Healthcare, Engineering, Sales and Marketing, Accounting and Finance, and Supply Chain Logistics, as well as Executive Search services for all industries.
For more information about TEEMA Solutions Group, please visit http://www.teemagroup.com.
About PROFIT Magazine
PROFIT: Your Guide to Business Success is Canada's preeminent publication dedicated to the management issues and opportunities facing small and mid-sized businesses. For 31 years, Canadian entrepreneurs and senior managers across a vast array of economic sectors have remained loyal to PROFIT because it's a timely and reliable source of actionable information that helps them achieve business success and get the recognition they deserve for generating positive economic and social change. Visit PROFIT online at http://www.PROFITguide.com.