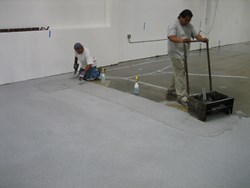 Wall, NJ (PRWEB) September 06, 2013
For a glass manufacturer, having a smooth floor to work on is pivotal in order to safely produce and transport products. Garon Products recently repaired the floor with an epoxy floor coating in the production room at Anthony International, a specialty glass manufacturer based in California that creates custom glass for retail displays.
The facility's cracked floor included uneven ridges that put safe glass production and transportation at risk. Because manufacturing operations consist of foot and equipment traffic taking place 24/7 at the large facility, Anthony International needed a flooring solution that could stand up to all of the activity.
The biggest challenge of the project was to ensure that production times were not sacrificed and that the workers could continue operations during installation. Garon went to work to formulate a plan that would meet the client's needs and take into account their distinctive circumstances.
Prior to installing the epoxy flooring system, the concrete floor was prepared and cracks and joints were filled in. The floor space was large, so the coating had to be troweled down instead of poured onto the floor. They used a screed box application to expedite the installation in an area-by-area process so troweling is quicker and easier.
The epoxy coating contained no volatile organic compounds (VOCs), so it did not emit odors. This was essential because it did not disturb or affect employees working in the facility at the time of the installation. The blue and gray color scheme of the epoxy mortar was an attractive choice; clients often come into the area so it shows well while offering a functional renovation, too.
The floor coating project was completed without interrupting production operations. The new floor is holding up wonderfully and gives workers a smooth surface for all of their glass production activities.
Watch this video to see the epoxy floor coating and repair installation or visit http://www.floorcoatingtv.com.
About Garon Products Inc.
Garon Products Inc. is the leading direct marketer of concrete repair and floor coatings through its catalog "Concrete Floor Solutions". Garon manufactures specialized floor coatings and concrete resurfacing products for every flooring application. The line includes epoxy, cement urethane and polyaspartic compositions. For more information, visit http://www.garonproducts.com.