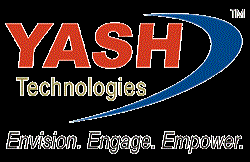 East Moline, IL (PRWEB) September 06, 2013
YASH Technologies, a leading technology services and outsourcing partner for global companies, today announced that it will host a live webinar entitled, "How to Use Hadoop to Excel in Excel" on Thursday, September 12th at 11 am CST, focusing on Big Data Analytics and Hadoop, a leading Big Data technology.
The live webinar will discuss how to integrate Powerview/Excel with leading Big Data technology Hadoop to leverage the transformational power of data to anticipate market demands, predict business outcomes, and respond to events in real-time. Attendees will leave this webinar with a better understanding of:

Current Big Data and Hadoop ecosystem landscape
Use and advantages of NoSQL databases in Big Data solutions
Big Data analytics using Powerview in Microsoft Excel 2013
Future trends of Big Data analytics
Gautam Gupta, Practice Manager, BI and Data warehousing, YASH and Gaurav Mittal, BI/Database Technical Specialist, YASH, will be the featured presenters. Register today for the September 12 webinar. For more information, please visit http://www.yash.com or email info(at)yash(dot)com.
About YASH Technologies
YASH Technologies focuses on customer success. As a leading technology services and outsourcing partner for medium and large global customers, we leverage technology and our flexible delivery models to drive performance and business value throughout a customer's enterprise. YASH's comprehensive service approach incorporates a holistic view of our customers that extends beyond delivery. This approach integrates enterprise solutions and services, proprietary best practice offerings, strategic application and maintenance outsourcing, as well as consulting and integration services. YASH is a SEI CMMI (Level 3) and an ISO 9001:2008 certified company with U.S. and India headquarters and regional sales and development offices spread across five continents.
####