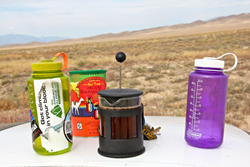 We challenged long-time rulers of the outdoor-bottle market, and determined which was truly the best.
Cheyenne, WY (PRWEB) September 04, 2013
OutdoorGearLab.com revealed today the results of the 2013 Top Water Bottle review. Listing this year's best and best value. Review Editors chose the following winners after extensive field testing in Yosemite, the Eastern Sierra, Canada and the Pacific Northwest. Seven models were put through rigorous comparative tests to figure out which was the best in the following categories: durability, easy of use, weight and utility. The most important aspect of a hydration option is that it fits your activity while being easy to drink from, clean and maintain. Even though all the contenders reviewed performed well (only the best were evaluated), what was found was that some options performed more competently in certain applications than others. Each underwent extensive head to head endurance challenges to evaluate these key performance differences.
The winners are:
Nalgene
Winner of the Editors' Choice Award for 2013. According to Gear Editor Atherton Phleger, "The most iconic outdoor plastic option is still our favorite for hiking, backpacking and camping. It is durable, easy to fill and works with a number of accessories from other manufacturers."
Platypus PlatyPlus
Winner of the Best Buy award for 2013. This award is given to a product that balances an extremely high score in tests and very reasonable price. According to Phleger, "Not only was this one of the best deals, it also was the lightest and most compact bottle. Just roll it up and put it in your pocket. Then pull it out when you reach a water source and decided how much H2O to carry to the next source."
Klean Kanteen
Winner of the Top Pick award for 2013. This award is given to a product that excels at a specific application. In this case, this was the best metal container. According to Atherton, "Even with all bottles tested now BPA free, many people still want a non-plastic container. This is the best metal bottle we tested."
OutdoorGearLab LLC is a company headquartered in Cheyenne, Wyoming dedicated to creating the world's best outdoor gear reviews. The company's website is a free resource for people who love the outdoors and participate in activities such as hiking, climbing, backpacking, and camping. The company performs side-by-side testing of outdoor gear and publishes the results in comparative reviews. Each product is scored across a range of weighted categories, competing products are ranked, and awards are provide to top performing products.