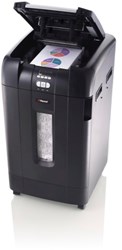 In today's business climate, companies cannot afford to take risks with sensitive information
London (PRWEB UK) 6 September 2013
UK paper shredder specialists, Galvo Shredders, has launched a Guide for purchasers looking to choose the right home shredder or the most suitable paper shredder for the office.
Choosing the right shredder is more important than ever with the year-on-year increase in identity fraud as well as the need for companies to protect confidential and business sensitive information through initiatives such as the Payment Card Industry Data Security Standard (PCI DSS) and the Government's Security Policy Framework (SPF).
One much-overlooked area is the increasing number of employees who work from home for at least some of the working week. These employees often print confidential or business sensitive information such as financial statements, strategy documents, client details and project plans. It is essential that this information is disposed of properly and a paper shredder with a suitable security level is absolutely key.
Piers Chapple from Galvo Shredders said: "In today's business climate, companies cannot afford to take risks with sensitive information, especially data related to customers. Not only are the penalties from the regulators high but the brand damage incurred to the company can be many multiples of the fine and the effects can be felt for many years as a brand re-establishes trust.
"There are many different facets to choosing the right paper shredder and working with a document shredder specialist, such as Galvo Shredders, will ensure the most appropriate choice is made."
Galvo Shredder's Guide takes the complexity out of choosing a shredder through a guided approach that determines the level of security required, the number of people likely to use the shredder and the volume and type of paper shredding, amongst other factors.
Galvo Shredders has an impressive range of paper shredders from leading brands such as Rexel, Fellowes and Q-Connect, all available for next business day delivery through delivery partner UPS.
"As with anything, getting the right tool for the job is paramount for on-going satisfaction. Individuals and companies need to buy the paper shredder that best fits their needs to ensure long-lasting happiness with their choice. Our Guide will assist in making sense of all the different models that are available," concludes Piers.