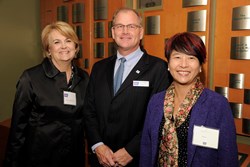 CFS is proud to sponsor ACS's largest golfing fundraiser.
Suwanee, GA (PRWEB) September 06, 2013
The Pink Ribbon Race to be held September 14 at the River Club in Suwanee, GA is one of several events surrounding the 7th annual 2013 CFS Pink Ribbon Golf Classic to benefit Atlanta based American Cancer Society (ACS) in its fight against this destructive disease. Start time is 8:00 a.m.
Sponsorship can be calculated as a dollar amount per kilometer completed up to 5 kilometers. For those would like to participate, you'll need to register and have a River Club member host your participation.
To sponsor a participant or to become a participant and seek donations to ACS, contact Bill Bryan, CFS Marketing Manager, by email at wbryan(at)cfscorporate(dot)com.
Again this year, Paula Dorough is Chairperson of the organizing committee, Kevin McQuilken is representing ACS and Bin Liu with CFS as Presenting Sponsor.
CFS Corporation is a national wholesale distributor of hard surface flooring based in Suwanee, GA. According to Bryan "CFS is proud to sponsor ACS's largest golfing fundraiser."
(2013, Atlanta, GA, USA by Bill Bryan)