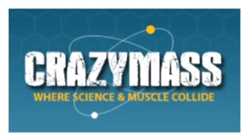 over 189,000 affiliates and they recently hit the 20 million mark in paid commissions
(PRWEB) September 24, 2013
CrazyMass is a well-established provider of legal steroids, RX-grade and other body building supplements which are sold online through the CrazyMass Store.
There are supplements for bulking and cutting as well as combination packs that can be purchased for a specific body building plan such as a strength stack or an endurance and stamina stack. CrazyMass ship worldwide and take orders via the phone 24/7. Within the CrazyMass range is the Trenbalone Tren-Bal Elite series, a cutting and bulking agent with an anabolic formula designed to release testosterone and increase nitrogen to retain muscle.
Affiliates promoting the CrazyMass range via the MoreNiche network can expect to receive 40% on all orders whether this is a single supplement or an entire stack order. Other benefits of this program include lifetime cookies and support from a dedicated affiliate manager. The MoreNiche network has over 189,000 affiliates and they recently hit the 20 million mark in paid commissions. This network is part of the Twist Digital group and is growing every day, affiliates who join the network can expect their sites and sales to grow too, as they work together with the Twist team to improve their marketing strategy, drive more traffic to their promotions and convert this traffic in to sales.
CrazyMass is a perfect affiliate program for both new and experienced affiliates as support is provided for affiliates at a range of experience levels. The potential for success is extremely high, with current online searches for 'bodybuilding supplements' at 22,200 and searches for 'testosterone booster' currently at 74,000 the market is huge and so are the commissions!
Join the CrazyMass affiliate program on the MoreNiche network today and get in touch with the product specific affiliate manager available for help and guidance.