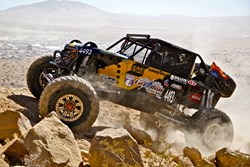 Florence, SC (PRWEB) September 06, 2013
ESAB Welding & Cutting Products is proud to announce its title sponsorship of LetzRoll Offroad Racing for the 2014 off-road racing season. ESAB will be the exclusive welding sponsor of LetzRoll Offroad Racing, the first major off-road racing team to have cars in all three classes of the Ultra4 and Dirt Riot series races, as well as a racing team in Europe. ESAB's relationship with the Mesa, AZ based off-road racing firm began earlier this year.
LetzRoll Offroad Racing has cars in the unlimited, modified stock, and stock classes of the Ultra4 and Dirt Riot series, including two 2012 Dirt Riot National Championships, a 2013 Dirt Riot National Championship, and back-to-back Southwest Series championships. The distinctive yellow and black ESAB Welding #4493, driven by LetzRoll Offroad owner, Andrew McLaughlin, finished in the top 20 of the grueling 2013 King of the Hammers Ultra4 race and is the current Dirt Riot Southwest Series points leader for 2013.
LetzRoll Offroad Racing has reached the podium 13 out of their 15 Dirt Riot starts in 2013.The company recently expanded its race team to include the United Kingdom.
Ultra4 Racing combines desert racing and rock crawling into the world's toughest one day off-road race. Dirt Riot Endurance Racing is a combination of four-wheel drive trails, dirt roads, rock crawling trails and obstacles.
With automatic qualification into the 2014 King of the Hammers, the LetzRoll Offroad Racing team is focused on defending their Dirt Riot National Championships, competing in both King of the Valleys and King of the Hammers in 2014, the Baja 500 and a full slate of Ultra4 races.
"LetzRoll has consistently performed as a top race team," said Sue Bartholomew, Director of Global MARCOM for ESAB. "As exclusive welding sponsor of LetzRoll, ESAB benefits with great brand visibility, as well as the opportunity to collaborate from a technical aspect."
Andrew McLaughlin established LetzRoll Offroad in 2008 as a part time business, primarily offering Internet sales of quality off-road parts. The company has grown to a full-time fully-equipped off-road shop, specializing in extreme off-road and fabrication.
ESAB Welding & Cutting Products is a recognized leader in the welding and cutting industry. From time-honored processes in welding and cutting to revolutionary technologies in mechanized cutting and automation, ESAB's welding consumables, equipment, and accessories bring solutions to customers around the globe. For more information, visit http://www.esabna.com or call 1-800-ESAB123.