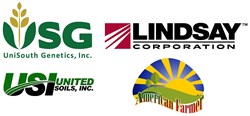 Jupiter, FL (PRWEB) September 06, 2013
DMG Productions proudly announces an upcoming episode of American Farmer, which will air on Tuesday, September 10, 2013 at 8:30 a.m. EDT on RFD-TV.
From seed to harvest, livestock and more, American Farmer explores the people, places, and revolutionary technologies impacting all corners of farm country.
In this episode, American Farmer will explore UniSouth Genetics, a non-profit co-op seed company, which provides a variety of wheat and soybeans to dealers and farmers over a 15-state region in the mid-Atlantic and Southern State areas. Viewers will learn about UniSouth Genetics' seed traits, which have been specifically adapted to various climates and soil conditions and have been tested and proven for positive results.
American Farmer will also explore how United Soils, Inc. & i-F.A.R.M. are redefining the industry through a new, simple software program. This user-friendly, intuitive solution was designed with both established and beginning farmers in mind. American Farmer audiences will be amazed by i-F.A.R.M.'s ability to easily manage data, view analysis, and generate required spread file applications; all while utilizing yield analysis tools to assist in correlating yield results with identified variables.
In addition, the show will feature Lindsay Corporation's dependable Zimmatic irrigation systems, which have been the choice of the world's irrigators for over 50 years. Audiences will learn about Lindsay's dedication toward finding a better way to irrigate almost any crop on varied terrain and soils to increase yields and better utilize natural resources.
About American Farmer:
American Farmer is a breakthrough program on a mission to showcase the latest advancements in agriculture and farming. From seed to harvest, livestock and more, our producers have traveled the country covering the people, places and issues impacting all areas of farm country.
American Farmer airs Tuesdays at 8:30am EST on RFD-TV as well as Saturdays at 1:30pm and Midnight EST on RURAL-TV.
For more information visit: http://www.americanfarmertv.com or call (866) 496-4065.
Media Contact:
Charlie Cowan, Producer / American Farmer
(866) 496-4065 x 875 / charlie(at)americanfarmertv(dot)com