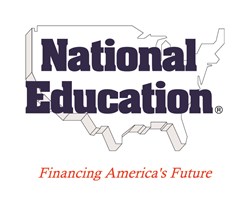 "We are pleased to offer features that improve our customers' access to their information."
Chicago, IL (PRWEB) September 09, 2013
National Education has completely overhauled its website to allow greater functionality for clients. Schools, lenders, and servicing clients can now view, query, and manage reports for their entire portfolio, regardless of the quantity of subdivisions, by using a single log in.
In addition to allowing partners this enhanced functionality, clients can now limit user access with granularity. For users who are responsible for only a subsection of a larger portfolio, National Education can limit access to specific subsections only. This feature accommodates clients who wish to have different employees handle limited portions of a single portfolio.
"We decided this upgrade was necessary to increase efficiency and functionality for our growing list of clients," says Justine Gianandrea, Senior Vice President of National Education. "We are pleased to offer features that improve our customers' access to their information."
With its latest system upgrade, National Education takes another step forward in its journey to lead the industry in superior client and customer service.
National Education, established in 1988, is a financial solution company sharply focused on developing, marketing, originating and servicing education financial products. National Education has received the "Exceptional Performer" designation from the U.S. Department of Education.
For more information, contact:
Matt Scotty at 800.345.4325 ext 5173, President, National Education
Justine Gianandrea at 800.345.4325 ext 5324, Senior Vice President, National Education
Ken Bogacki at 800.345.4325 ext 5509, Vice President, National Education
Bill Engler at 651.398.2998, National Sales Manager, National Education