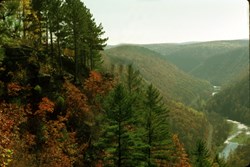 Wellsboro, PA (PRWEB) September 05, 2013
What do Pennsylvania's Pine Creek Gorge, California's Golden Gate Bridge and Australia's Ayers Rock have in common? If thoughts include adjectives describing how wondrous these landmarks are, individuals are not alone: these three treasures are part of a much larger list developed by travel site Virtual Tourist for their "8th Wonder of the World" contest.
Virtual Tourist, a subsidiary of TripAdvisor Media Group, developed this contest in early summer and entrants were recommended by Visitors Bureaus, Tourism Boards and Chambers of Commerce; the result was a listing of more than 300 nominations from across the globe. Of these 300 entrants, Pine Creek Gorge and other well-known Pennsylvania locations made the list. But in the midst of landmarks widely recognizable by international crowds, why should Pine Creek Gorge win the title of "8th World Wonder?" The answer may be surprising.
Most commonly referred to as the Pennsylvania Grand Canyon, Pine Creek Gorge was formed during the last Ice Age; its formation was so prolific that it actually caused Pine Creek to flow in the opposite direction (southward instead of northward). The 20,000 year old landmark is 47 miles long, stretching through Tioga and Lycoming Counties in northcentral Pennsylvania. At its largest point, the gorge is 1,450 feet deep and nearly a mile wide. It served as a major travel route and seasonal campsite for Native Americans and was home to giant trees such as Eastern White Pine, Eastern Hemlock and hardwoods. The gorge has survived the lumber boom and deforestation during the 1800's, as well as forest fires, landslides and flood during its expansive lifetime: visitors today may be surprised to learn that the forested hills that lay before them were once barren, and had it not been for the Civilian Conservation Corps of the 1930's it would not be as beautiful as it is today. In 1968, the National Park Service designated a 12-mile section of the gorge as a National Natural Landmark; this section is home to Leonard Harrison State Park and Colton Point State Park, which border the east and west rims of the gorge in Tioga County.
Today, the fate of this recreation-rich area lays in voters hands in the 8th World Wonder contest—supporters can vote once per day until the contest ends on September 30. To vote for this feat of nature, please go to http://www.virtualtourist.com/8thwonder, scroll down until you see "Pine Creek Gorge" and click on the Vote button. First time visitors to the Gorge should note that there is plenty to do and see: take in the vast landscape from either of the state parks, hike on one of the many trails, swim or fish in Pine Creek (it's one of the best trout streams in Pennsylvania!), or take a bicycle trip along the world-famous Pine Creek Rail Trail at the floor of the canyon. Need help planning a trip? Go to http://www.visittiogapa.com for area information, other attractions, and dining and lodging suggestions.